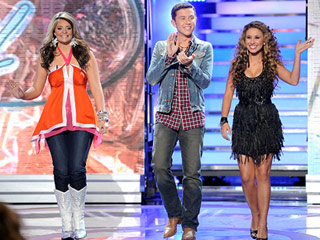 Really, American Idol? Three songs? Three? Was it really necessary to stretch last night's episode to two freaking hours when there are only three singers left?
Who is The Ashley kidding? She loves every minute of this crap. Last night's episode was extra special. Not only did it decide which singers would make it to next week's finale, but also because there were two very special people in the audience: Priscilla Presley(!) and a guy dressed up like a dog. Why the hell wasn't The Ashley in the audience last night?! Two of her favorite things were present!
Anyway, the first song that the contestants sang was one of their own choosing. The 'Idol' producers have gone big time with this season's mentors- they managed to snag Beyonce to be the celebrity helper this week. She pretty much did nothing but tell the contestants how good they are. She offered very little usable advice and instead just stood there looking really good in short-shorts.
Scotty chose to sing "Amazed" by Lonestar. This deeply disturbed The Ashley. How the hell is it that Scotty was allowed to pick a favorite song to sing and he didn't sing "Baby Lock Them Doors…?!" I have to admit, he broke my heart a little. However, his version of "Amazed" was great. His voice is radio-ready and he sounds better than quite a few of the guys I hear on country radio today.
After Scotty's performance, they showed Ryan surrounded by a bunch of "big girls," which was no doubt an attempt to recover after the "American Idol Hates Fat Girls" debacle from a few weeks ago.
Lauren chose to sing "Wild One" by Faith Hill for her first song. In rehearsals, Beyonce gave Lauren the stellar advice of "Be great." Gee, thanks B.
The singing, which was just so-so in my opinion, is not what The Ashley wants to discuss though. What the HELL was Lauren wearing?! It looked like a bad Marci from Scooby Doo Halloween costume. And those earrings—girl, who told you it was a good idea to have sea urchins hanging from your ears?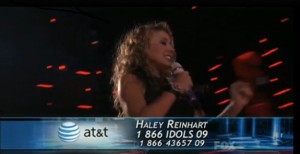 Haley chose to sing a Led Zeppelin song for her contestant's choice, and she chose to have her dad play guitar for her performance. It was a completely rad performance. Her singing, her outfit, her dad– superb.
But what made this one of the best performances ever?!? SHE TRIPPED!! The Ashley's been waiting for 9 seasons to see someone eat crap on stage during American Idol and last night her dreams were fulfilled! (Don't try to act all high and mighty and say I'm being mean…you know you want to see the clip of her falling again. You can watch it here.)
Round One Winner: Totally, 100% Haley. And not just because she fell either!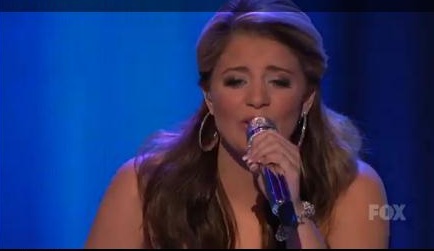 For Round Two, the contestants were singing songs chosen by Jimmy Iovine. For Scotty, Jimmy chose a fantastic song "Are You Going to Kiss Me Or Not" by Thompson Square. It allowed him to play with his voice a little and show that he can do more than just sing really low.
For Lauren, Jimmy chose "If I Die Young" by The Band Perry. OK, I love this song. But I love to listen to it when I'm depressed or in a reflective moment. When I watch American Idol, I don't want to hear about people dying. Did anyone else think it was a little unfair that Jimmy made Lauren sing about dead kids?! True, the song suited her voice nicely, but the fact that she had to sing about burying babies put her in the hole a bit.
Haley sang "Rhiannon" by Stevie Nicks. The performance was breathy and ethereal but didn't stand out. What did stand out was the backup singer that was way off-key! Woof! Oh, and the cheesy wind blowing on Haley! Was that really necessary guys? American Idol is already off the charts in terms of cheesiness already, did we really need to get a wind machine involved?
Round Two Winner: Scotty just edged Lauren to win this round.
Finally, we got to Round Three (we're nearly an hour and a half in at this point and my butt was falling asleep). The judges got to pick the contestants' third song and they did a pretty horrific job.
First, they chose "She Believes in Me" by Kenny Rogers for Scotty. Now there's a nice, hip, modern song. Great job, judges. You made him sound like he was singing in the lounge of the Holiday Inn in Reno. Or an elevator.
Next up was Lauren, who was singing the early-2000s hit, "I Hope You Dance." This was the best choice of the three judges picks, as it allowed her to sing some big notes and show offer her voice. The dress was amazingly beautiful, but unfortunately it was countered with some pretty awful hair.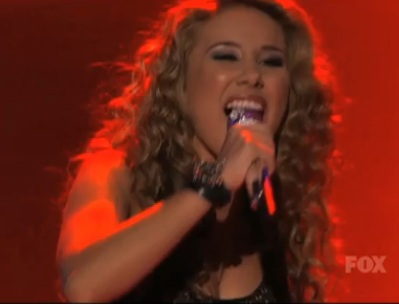 The judges decided to pay Haley back for giving them attitude last week by choosing one of the worst songs possible for her to sing. "You Outta Know" by Alanis Morissette is a great song (about revenge and blow jobs, mind you), but it was pretty much a death sentence for Haley's chances at the Idol crown. Sure, she kicked ass during the chorus, but the rest of the song (especially the parts she had to sing really fast)– ouch! She did the best she could, but there was really no hope with that song.
The highlight of round three: hearing Scotty's dad sing "Baby Lock Them Doors…" I think I'm obsessed.
Round Three Winner: Lauren
So who goes home tonight? The Ashley's been predicting a Lauren/Scotty finale showdown since the Top 24 and I think that's exactly what she's going to get. She will be very sad if Haley goes home though. She's been my pick since the beginning, even back when everyone hated her!