The Teen Mom/ 16 & Pregnant Fan Land went all kinds of crazy last week after The Ashley broke the story that Jordan Ward from Season 3 was pregnant again. (You can read that story here.)
The Ashley has some more news for ya'll: Jordan isn't the only '16 & Pregnant' girl who is pregnant with baby #2! Season 1's Ebony Jackson is pregnant again as well!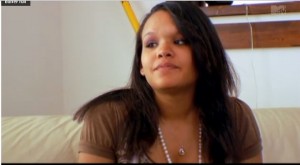 Ebony was one of only two girls from Season 1 that didn't get picked to be on  the "Teen Mom" series. (Ebony and Whitney Purvis got the boot and Maci, Amber, Catelynn and Farrah got the mega paychecks. That kind of sucks for Ebony and Whitney!)
Anyway, after the show, Ebony married her baby's father, Josh. He's in the military and the family (which includes the couple's 2-year-old daughter, Jocelynn) seem to be doing well. Even though Ebony's only 19, she seems to have a good grip on things and has chosen a good father for her kids who can provide for them. Still, two kids by the age of 20 is a lot to take on for anyone.
If The Ashley had to choose any girls from the 16 & Pregnant series to get pregnant again, she would have chosen Jordan and Ebony. Both are married, have a baby-daddy with a stable career field, and both behave like grown-ups.
Now if it were Jenelle or AMBO that got pregnant a second time, that would be a completely different story! These people do not need to procreate anymore! Poor Barbara Evans doesn't need anymore grandkids to take care of, especially not a little baby Kieffer!
Update May 31, 2011: Ebony has lost the baby. Click here to read the update for this story.
Update September, 2011: Ebony and Josh were arrested for child endangerment. Read all about that here!