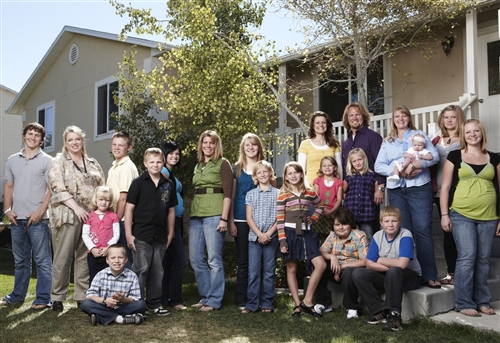 Strippers? Sure. Porn slappers handing out hookers' calling cards in front of every casino? No problem. A man who lives with and is committed to four women and his children? Hell-to-the-NO! That's a sin that's not OK with some of the Sister Wives' new Sin City neighbors.
The Ashley has been secretly watching (and loving) this show since it premiered on the TLC last year.The Ashley has a strange obsession with fundamentalist Mormon religions. She's read every book she can find about the topic, so this show is a dream come true! (Just for the record, the Browns are not Latter-Day Saint Mormons. They are actually members of the Apostolic United Brethren.)
In case you have yet to catch this polygamy piece of heaven, The Ashley is happy to explain the show to you. "Sister Wives" follows Kody Brown, King of the Brown House and also King of the Shaggy Almost-Mullet.  He has four wives: Meri, Janelle, Christine and Robin. All together, they have about 975 kids.
Anyway, things were going great for the Browns until they started doing the show. They were living in Mormonville (aka Salt Lake City) in one big house, living the plural marriage dream. After they went public, everything went downhill: some of the wives got fired and the state of Utah began "investigating" their family. (What's to investigate? They're literally on TV every week saying that they're polygamists. Glad they're using Utah's tax money to 'get to the bottom' of that!)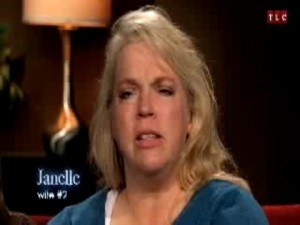 So the Browns picked up their brood and moved to Las Vegas. Why they decided that Sin City was the best place for their conservative fundamentalist Mormon family is beyond me. But the new neighbors haven't exactly wheeled out the Welcome Wagon, according to this report. In fact, one neighbor even tried to have the family evicted!
"It was pure prejudice," Kody told Radar. "We've had people that yell at us out of a window of a car while we're walking on the street."
Things seem to be getting better for the clan. According to Kody's wife, Janelle's Twitter, the neighbors have started to welcome them to the neighborhood. Some of the neighbors seem to be as 'different' as the Browns.
"You know u live in Vegas when your neighbor goes to work driving a 1956 pink Cadillac dressed like Elvis," Janelle recently tweeted.
Anyway, any bets on how many of the Brown children will end up rebelling against their parents' religion and end up working as 'cocktail waitresses' at the Sapphire strip club? Vegas has so many opportunities for young women, you know!