Many reality TV stars seem to really enjoy two things: getting more famous and getting more tattoos! For whatever the reason, people who appear on reality shows really enjoy getting crappy tattoos of their family members' faces, odd sayings or even bad 1990s boy bands.
The Ashley had decided that all of these bad tattoos need to be together in one place so she's compiled this list of the worst tattoos ever to appear on the skin of a reality TV show star! She's waded through the good, the bad and just plain strange.
Before The Ashley presents her list, she must make this disclaimer: The Ashley does not hate tattoos. The Ashley does not hate reality TV stars. She does, however, love to make fun of people who do stupid things, such as tattoo their wife's face on their bodies. (Ask Tom Arnold how that worked out for him!)
On with the show!
10) Kasey Kahl, "The Bachelorette"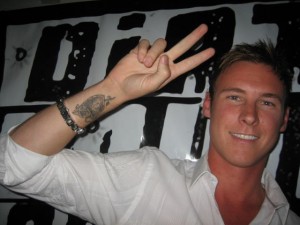 You couldn't have a list of weird reality TV star tattoos without including Kasey's creepy ink! Kasey actually got the tattoo to prove to "Bachelorette" Ali that he would always "guard and protect her heart."
It didn't work out so great for Kasey in the end. Before the tattoo had even healed, Ali sent Kasey packing. Well, actually, she left him alone on a glacier in Iceland and took off with some other guy in a helicopter. Ouch!
9) Willie Ames, "Celebrity Fit Club"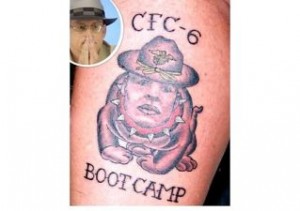 Willie Ames starred (I used that term loosely) on the sixth season of "Celebrity Fit Club." He must have had an incredibly positive experience on the show, because right after it wrapped, he ran out and got this horrific tattoo inked onto his calf!
If you're wondering what the hell it is, it's actually the face of the show's trainer, shown with the body of a bulldog (as you do.) 'CFC-6' =Celebrity Fit Club 6.
8 )  DJ Pauly D, "Jersey Shore"
Although including Pauly D on this list violates The Ashley's rule about ever mentioning the creepgoblins from the "Jersey Shore" show, she didn't want to miss the opportunity to make fun of this guy.
Anyone who gets the name of a company tattooed onto their bodies deserves a kick in the head unless 1) you own that company or 2) your name happens to be the same as that company and you're using the tattoo for identification purposes. (Or you they pay you!)
Getting a huge "Cadillac" logo tattoo down the side of your body just makes you ridiculous, not to mention just plain stupid for not trying to get them to pay you to advertise their logo.
7) Maci Bookout, "Teen Mom"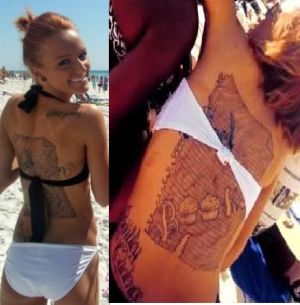 The Ashley loves Maci, but someone lied to her with that back tattoo. Yes, your last name is "Bookout," hence the book. But then you start throwing in cupcakes, and loose leaf notebook paper and babies' names and it's just a big mess. Below the main tattoo she's also got a ginormous tattoo of her son's name "Bentley Cadence." To be fair, that tattoo is actually really well done.
So much tattoo for such a small girl. I'll bet it hurt like hell too!
6) Nick Cannon, "America's Got Talent"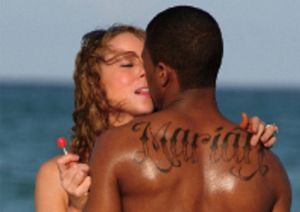 Yes, Nick, we get it…you like your wife. Well, I hope you like her forever and ever because that humongous tattoo of her name is going to be a bitch to remove if you two lovebirds ever decide to divorce. (A Hollywood marriage ending in divorce? I can't imagine that happening!) Did it have to be THAT BIG!?
The Ashley never understood why people feel the need to brand themselves with their significant others' names. Can't you guys just wear each other's ID bracelets or something? But, hey, to each their own!
5) Dean McDermott, "Tori & Dean"
Dean McDermott's strange tattoo of his wife's face is yet another creepy example of how you can proclaim your love for your wife using tattoo ink. He got this in honor of Tori's 36th birthday and, according to reports, even she was creeped out by it at first. This isn't Dean's first Tori-inspired tattoo either. He has three more, kids! (You can see them all here.)
Dean, please don't get any more Tori tattoos. No one wants to see Donna Martin's mug smiling back at them when they look at your arm.
Does anyone else find it creepy that Tori and Dean's son is going to have to see a photo of his mother in her bra anytime he looks at his dad's arm?! Yikes!
4) Siobhan Magnus, "American Idol"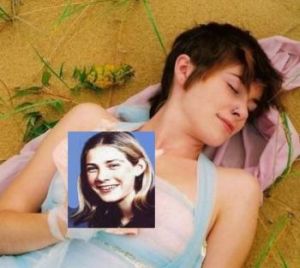 Siobhan had to be included on this list. The reason? She has a tribute to the late-1990s band Hanson inked somewhere on her body! (The Ashley was unable to locate an actual photo of this monstrosity, therefore she made this image of what she imagines Siobhan's tattoo looks like.)
The "American Idol" Season 9 contestant is not alone. Many other women have also offered their bodies as temples to the Boy Band Gods. To see more of these 'great' Boy Band tattoos, click here.
3) Audrina Partridge, "Audrina"
What in the hell is that lurking on the neck of Audrina Patridge? Your guess is as good as mine! After closer examination, it appears to be a tattoo of a heart (the anatomically correct kind, not the cute Valentines Day kind), with a large blue snake constricting it. Or maybe it's a strawberry?
It looks like she picked three images out of a book and asked the tattoo artist to mix them all together into a collage 'o' creep.
2) Fantasia Barrino, "American Idol"
True, Fantasia got this tattoo long after she took home the big prize on "American Idol" season 3, but the meaning behind the tattoo is so odd that she had to make this list!
Fantasia started seeing Antwaun Cook back in 2009 and decided that she was so in love that she had to get a huge tattoo of his name inked right onto her chest. (The arrow points it out, in case you somehow failed to see that eyesore.) Antwaun got a tattoo of her name in the same spot.
The only problem? Antwaun was married, with two kids! Normally when a woman is seeing a married man she keeps it on the down-low, but not Fantasia! Perhaps she could get a tramp-stamp that said "Homewrecker" to match?
1) Amber Portwood, "Teen Mom"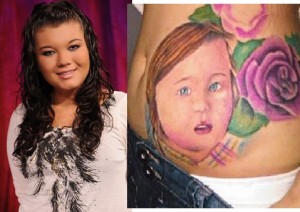 "Teen Mom" star Amber Portwood takes home the grand prize for strangest reality TV star tattoo.
Amber decided to get a tattoo of her baby, Leah's, face. The problem? The child that was inked all across her stomach isn't Leah. It looks like a pink alien cabbage patch kid. Leah is sooo cute; however this child on Amber's stomach looks nothing like her. It's just plain scary! Amber should seriously sue whoever did this tattoo for her.
Did The Ashley miss any other bad reality TV star tattoos? Let me know!