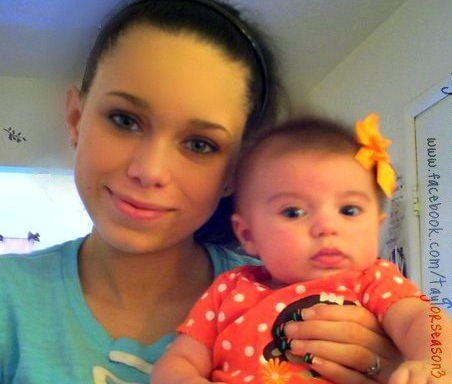 We are almost through the entire third season of 16 & Pregnant, with only two episodes remaining. The final two girls, Taylor and Allie have kept themselves relatively anonymous, unlike a lot of the Season 3 girls who were very vocal about being on the show, sharing their lives on Facebook fan pages. (Taylor does have a fan page now, but didn't for a very long time.)
This week's episode will focus on Taylor Lumas, whose story is perhaps the most intriguing of all the girls. The reason? Taylor is only 15 years old. Her daughter, Aubri, is seven months old (born in November 2010), making Taylor only 14 when she got pregnant! (The Ashley couldn't even get a guy to kiss her at 14, let alone make a baby!) She is from the Cincinnati, Ohio, area.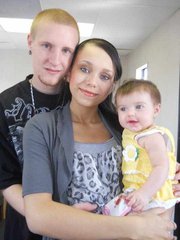 Taylor's baby-daddy is Nathan, a 16-year-old track star. He kind of looks like a young Eminem (I'm sure he'll take that as a compliment.)
Taylor and Nathan consider putting their baby up for adoption (which is no surprise, being that she's so young). However, they decide to keep the baby, despite her mother's protests. (Her mom is understandably worried that the burden of the baby will fall on her, which is probably true, being that Taylor and Nathan weren't even old enough to get a job!) Her mom tries to encourage Taylor to look into open adoption for the child, but she's not interested. She ends up keeping the baby.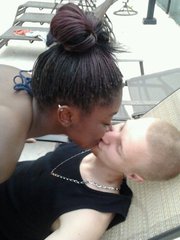 One thing she doesn't end up keeping? Nathan. After their episode, Taylor and Nathan broke up, although Nathan is still in the baby's life. He's obviously, moved on, as evident in the picture at left. (That chick he's kissing ain't Taylor!)
This episode (and next week's episode with Allie) is going to be good! The Ashley isn't sure if she will do a recap of Taylor's episode, as she feels bad making fun of someone so young. However, if Nathan proves to be as big of a crapnugget as he seems, she may not be able to help herself!
This whole episode reminds me of the 1990s Lifetime movie classic '15 & Pregnant.' Anyone else 'member this masterpiece?
Update (6/18/11): Taylor's brother Shane was kind enough to let The Ashley the real story with Nathan:
"Taylor is my little sister and Nathan is NOT part of the babies life. He would rather go steal from his family, do drugs, and hang out with low lifes instead of being with my wonderful niece. And for those who want him to see him get his ass whopped, he almost got it when MTV was there by me, but it got cut out by MTV."
(Photos: Facebook)