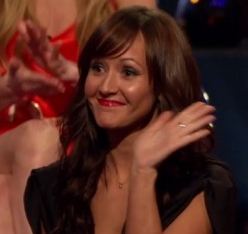 Ashley Herbert may annoy the hell out of viewers as she sobs, screeches and 'Bentleys' through two hours each week on The Bachelorette, but at least producers can justify making her the 'Bachelorette' for one reason: she was cheap!
No, The Ashley is not referring to Ashley's wardrobe full of cheap-looking dresses (although she could). She's talking about salary. According to US Weekly, Ashley was paid much less than previous 'Bachelorettes' such as Ali Fedotowsky, Jillian Harris, etc.
The salary paid to a 'Bachelorette' is usually somewhere in the $100,000 range, according to the production insider that spoke with US Weekly. Ashley didn't even get paid a third of that! Her salary came in around only $30,000! (Not bad for two months of 'work,' but when compared to what her fellow 'Bachelorettes' have made, it looks like chump change!)
Maybe she started at $100,000, and the producers took away $5 for every time she said the word "Bentley" on camera? She'd be down to about $10 by now!
(Photo: ABC)