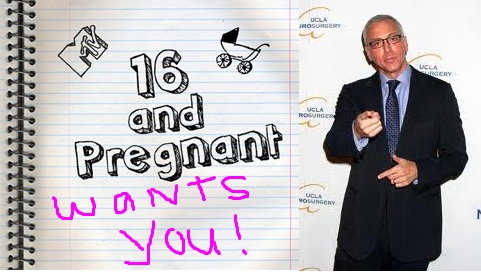 Clearly, despite all of its critics, this MTV mainstay is not going anywhere!
The network recently announced that it is casting for Season 4 of its wildly successful show, 16 & Pregnant. The past three seasons have brought us some of the year's biggest tabloid stars. The Ashley can't even go buy a pack of Wrigley's at the Walgreens without having Jenelle or Amber staring back at her from the cover of an InTouch Weekly.
What does it take to get on '16 & Pregnant?' According to MTV,
"Our goal is to show what teen-aged pregnant women, from varying backgrounds, experience in their lives and relationships as a result of their unplanned pregnancies."
Obviously, you have to already be pregnant. They do seem to budge on the age a little bit; many of the girls featured on the show were older than 16 (for instance, Amber was 17 when she appeared on Season 1), and Taylor from Season 3 was just 14 when filming began.
Since its debut in 2009, this show has put a lot of people's panties in a bunch. (Click here to watch the original trailer for the show…who doesn't love vintage '16 & Pregnant?!')
Is it ethical to keep featuring these girls on this show and turning them into 'celebrities?' A lot of people will say no, however The Ashley feels a little differently about the whole thing. Teen pregnancy is going to happen with or without MTV cameras rolling. It's not going to make teen girls want to get pregnant anymore than watching Celebrity Rehab will make someone want to be a drug addict.
If one 15-year-old girl who watches this show, sees how hard it is to have a baby, and makes her boyfriend put on a condom, then something good has come from the show. However, at some point, enough is enough. The Ashley is torn on this.
So are you pregnant? Too young to vote or sign important documents without consent of a parent/guardian? Then MTV wants you!
"As time is of the essence, please email us as soon as possible. Include the city and state you live in, your contact details, a picture and why you would want to take part in 16 and Pregnant." If this sounds like a good idea to you, email 16andpregnantcasting@mtvmix.com.
Then come and tell The Ashley all about it!
Attention readers: This post is a few years old and The Ashley has received many personal stories from readers, and had people leave their contact information in the comment section of this story, hoping to get on the show. Please note that The Ashley has nothing to do with the casting of this show, so please do not leave your personal info on this page. The Ashley has tried to delete the comments as they come in, for the readers' own safety. Thank you.
(Photos: MTV, Newscom)