Oh, Jenelle…just when us Teen Mom 2 fans were really starting to believe that you wanted to turn your life around, you pull a fast one on us.
As all 'Teen Mom' fans know, Jenelle Evans has had her share of run-ins with the law, and is currently on probation after pleading guilty to drug charges for crimes committed back in October of last year. Part of the terms of her probation required her to submit to monthly drugs and alcohol testing, as well as pay court costs.
She was also required to do some community service, which she did. (Click here to see the photos of her sporting a dazzling community service orange vest and working the  trash-picker-upper claw.)
Seems like Jenelle has blown off both of these rules. According to Radar Online, who broke the story, Jenelle is not only behind on her court and probation supervision fees (by $320!) but she has also failed to complete the required aftercare program, following her stint in rehab. (I guess it was court-mandated after all!)
More importantly, Jenelle failed this month's drug test, testing positive for THC (which is found in pot) on July 13!
In true Jenelle fashion, she celebrated the failed drug test by–what else?– smoking some more wacky tobaccy! She even posed for photos with the pot two days after failing the drug test. Naturally, TMZ got their mitts on those photos and was kind enough to share them with us. 
 I'm sure Jenelle's creepy on-and-off boyfriend, Kieffer, probably sold the photos to TMZ for $35 and a box of Ding Dongs. (He's got the munchies, yo!)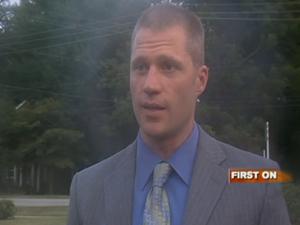 Her poor lawyer, Dustin Sullivan, is frantically scrambling to figure out what happened and surely trying to make Jenelle's little marijuana glamour shots go away.
"I hadn't heard from her in quite some time,"  he told North Carolina news station WWAY in an interview.  "No news is usually good news and I thought that was where we were at until today."
He said that if his client did test positive for marijuana, she could face 45 days in jail.
"My concern right now is that she is enrolled in school and she will be enrolled in school in the fall," he said. "I would hate to disrupt that, but if it's jail time then we'll figure something out."
Um…how about Jenelle figures out how to not smoke weed until she's not being drug tested? Or even go one better and just stop toking up, being that you have a son to take care of and the whole world waiting for you to fail? Is the wacky tobaccy worth it? 
She just posted "I'm so disappointed. FML" on her Facebook Fanpage. Um…disappointed that you are continously screwing up your life? Or disappointed that you got caught?
The silver lining in this dark cloud: The 'Teen Mom 2' crew is currently filming for Season 2 of the show, so we may get to see this all play out on TV!
(Photos: Jenelle photos-TMZ/ Dustin Sullivan photos-WWAY)