This week on Teen Mom, we are catching up where we left off from last week's episode: Butch is free from jail (Thank the Baby Jesus!) and is making appearances on the show again; Amber is facing the possibility that she may go to jail and lose Baby Leah forever due to her beating of Gary, Maci is still trying to decide where to live; and Farrah is still being a general crapnugget to everyone who dares come in contact with her.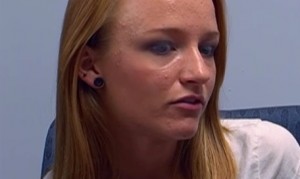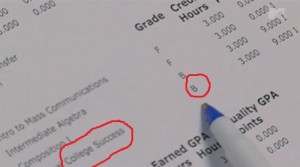 Anyway, Maci is living with Kyle in Nashville and is unhappy that she has to drive two hours each way to go to school in Chattanooga. Um…I'm pretty sure they have junior colleges in Nashville…why not just switch schools? It's not like she's attending Stanford or anything…
She heads to the counselor's office and learns that she's only passed two out of her four classes. The counselor is trying to be nice, but he finally levels with her, telling her to basically quit farting around with Kyle and MTV cameras and the like and get serious about getting her degree. He tells her a college degree will last a lot longer, (and will still be around once MTV stops writing you checks!)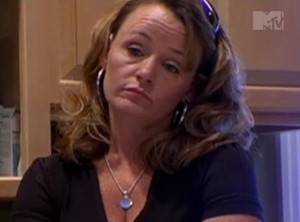 She slunks out of the college office and heads to her parents' house to deliver two pieces of news: 1) she failed her classes and 2) she's going to be shacking up with Kyle in Nashville. It's as if Christmas came early for Mama and Papa Bookout.
Naturally, Maci's parents aren't happy to hear any of this, and tell her pretty much the same thing the school counselor does: get your ass to school and get serious.
Over in Michigan, Catelynn and Tyler are enjoying time in their own apartment, although, I honestly don't see how since their new apartment is Butch-less. ('Member kids, everything is better with Butch!) Catelynn remembers that she still has stuff over at her mom's house and needs to go pick it up, so she calls April to arrange a time.
Apparently, April's in a "mood." She tells Cate to "come get your sh*t by 3 o'clock!" Um…why the sudden rush, April? Are you anxious to turn Cate's old room into a library for you and Butch? Ha ha, I'm funny.
"THREE!" April screams into the phone again. It's all Inspector Gadget-y: "You have until 3'olock to pick up your Wal-Mart shirts or they will self-destruct!" All of a sudden, April randomly terminates the phone call, mumbling that she has to go because "someone's here" and hangs up. Who knows who was at the door, but The Ashley thinks it was probably Butch, looking to "get his freak on."
Poor Cate; April's not allowed near Butch so she's taking her sexual frustration out on her daughter. (Who can blame her? Every gal in America wants a piece of Butch's salt-n-peppa rat tail!) Later, Catelynn and Tyler go to pick up Butch and take him to lunch, where they discuss the fact that their family needs to work on their issues so that someday maybe Baby Carly will be able to come visit them.
(I'm just going to say this right now: there is no way in hell that The Whitebreads-aka Brandon and Theresa- are going to let their daughter visit April and Butch in their cigarette-smoke-filled lair. It's a nice dream, but we all know it's not going to happen.) Anyway, the kids suggest family counseling, and Butch agrees, leaving us with a sparkling tidbit of advice:
"You can't do [rehab] for nobody–not my kids, not my truck (???), not my grandmother–but you." Am I the only one that wants to get a bumper sticker with that saying on it?
Next we check in with Farrah. She's still mad that Derrick's mother wants to see Sophia. (It's ironic that his mom's name is Stormie,  because that should actually be Farrah's name, due to her miserable attitude and venomous outbursts) Farrah and Deb head to their lawyer's office to discuss their options.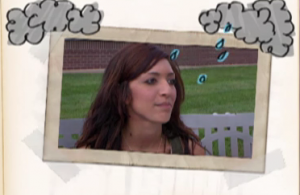 The lawyer has obviously never been on the TV before, because he keeps sneaking creepy smiles at the camera while talking to Farrah.
In Indiana, Amber is struggling with the Child Protective Services and police stuff. She says she's going to counseling to deal with the stress of her life. OK…sorry, but we need to stop right here for a sec. What stress does she have? Yes, she has a daughter, but she doesn't work (at least not since Tanning Salon Job circa 2009, as far as I know), doesn't go to school and barely leaves the couch. Seriously, what stress does she have?
Amber's been staying with her friend Kim, who lives in Amber's old apartment. Unfortunately, there's nowhere for Leah to sleep at Kim's place. Why, you ask? Because Leah's crib is filled up with junk. Obviously, the thought of cleaning out the crib is out of the question (where would they store the boxes and big red ball?) so Leah is staying with Gary.

Later, Amber goes to see Gary, who tells her that the CPS came looking for her earlier. Amber decides to schedule a meeting with her attorney, but what she really needs to do is schedule a meeting with her eyebrow waxer…where the hell did the other half of her eyebrow go?!
Catelynn and Tyler are at their apartment when all of sudden April shows up, carrying a cloud of ciggie smoke along with her. She saunters in and is surprised to see that Cate's doing her homework. ("Why ya gotta keep trying to do that learning stuff?") It's here we notice that there's something, um, different about April. Her face looks bonier and she seems very, um, spacey. Hmmmm…
Meanwhile, the two-hour school commute is really starting to get to Maci and she comes home in a bad mood. She tells Kyle the drive is making her want to shoot herself. To talk Maci off the ledge, Kyle suggests that maybe he could drive her to Chattanooga sometimes. Bless his little heart…Maci shoots back "How would I get home?" "I dunno" says Kyle. It was a stupid suggestion, but it was kind of sweet on Kyle's part.
Maci decides she's done with this drive and is moving back home, asking Kyle to come with her. Unlike Maci and most of this show's cast, Kyle actually has a non-MTV-related job, so he'd have to quit if he moved. I just can't stand it anymore: why the hell can't she go to school in Nashville?!?
Back at Amber's old apartment, she sits down with her friend Kim (whose hair could not be more highlighted. Four colors, girl, really?) Like Farrah's attorney, Kim is awkwardly smiling at the camera while Amber explains that she's never going to get physical with Gary again (not in that way, sickos!) Amber's attorney, Bob, calls and tells her that <surprise!> the CPS meeting is actually going to take place at the Police Station! This may not be good for Amber…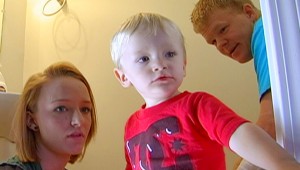 It's time for yet another Maci segment. She's still trying to decide where to live. Seriously, just move to Nashville so we can move on to more important 'Teen Mom' things, such as Butch. She goes to look at apartments (which is apparently code for "two-story houses" in Chattanooga). She doesn't want to move back in with her parents, but how the hell does she afford a rental house if she doesn't have a job?  It's kind of ridiculous.
She finds a beautiful house apartment and Kyle surprises her and shows up. She gives him a tour of her new pad, which naturally includes a sunken jacuzzi tub. (Because all single teenage moms get to have one of those!) Kyle comes bearing big news: he's quit his job and is moving to Chattanooga to be with her and Bentley. Yay! The Ashley wants them to end up together!
Meanwhile, Catelynn calls her mom to try to tell April how she's been feeling. She tells her that her ever-changing mood is hard to take and that they need to respect each other. I feel bad for Cate; she's really trying to make things work, and suggests counseling again. Finally April agrees, stating that she really wants to "get over this sh*t." (Aw, Ma, you always know the right things to say.) They go meet with a counselor and April promises not to call Cate a bitch or a whore anymore. I think this is a major step in the right direction.
Finally, Farrah heads to court with her mom to deal with the "Grandparents' Rights" case. To lighten the mood during the car ride over, Deb tells Farrah that she introduced Sophia to Barney and that she loves the big purple dino now. Farrah has a complete sh*t-fit, telling her mom that "it's not Barney time!" and that Deb "sucks at being her mom" because she doesn't know how to calm her down. How about a stun gun to the face Farrah? Would that calm you down, because that's what Deb should have given you for being so tarty with her.
She needs to chill out and go live with Catelynn's mom April for a week to learn how good she really has it.
Next week: more court drama (boo, no cameras allowed) and some baby-daddy Maci/Ryan drama.