The girls of Teen Mom 2 spent the weekend exploring Hollywood, while on breaks from filming the Season 2 reunion special with Dr. Drew.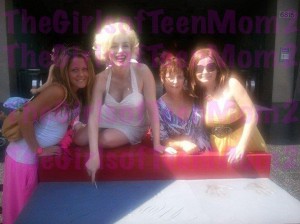 The girls filmed various clips and after-show interviews on Saturday, followed by the reunion special with the Good Doctor on Sunday. Sunday's shoot started at about 10 am and will probably last until at least 9 p.m! In between the grueling filming schedule, though, the girls were able to go out and have fun in LA!
The first night they hit up the nearby Universal City Walk in Studio City, as well as got to spend some time on Hollywood Blvd's Walk of Fame! Guess who else joined in on the festivities? The Ashley's favorite: Jenelle's mom, Barbara Evans, as well as Jenelle's pregnant sister, Ashleigh!
Also in Los Angeles for the reunion? All of the Teen Dads (and boyfriends): Corey Simms, Jo Rivera, Jordan Wenner and even Adam Lind were seen around town, as well as members of the girls' families.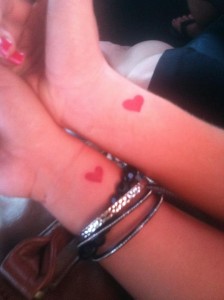 It's no secret that the girls share a unique bond, so they decided to commemorate that with matching heart tattoos on their wrists, which they got while in Hollywood. There's really no one else in the world that can understand the unique experience of the Teen Mom girls, so the girls must feel very comfortable around each other. Leah, Chelsea and Kail all got their tattoos together, while Jenelle is supposed to get hers tonight, according to her Twitter. I hope Barbara Evans got one too!
Leah and Chelsea got a special treat on Saturday night: a visit from Gary and Leah Shirley, who are also in Los Angeles visiting Amber Portwood in her California rehab facility! The whole gang hung out for a while on Saturday night.
The girls will be flying home on Monday, leaving us all to wonder if this is the last reunion show they'll ever shoot…will there be a Season 3 reunion? Fans of the show (and The Ashley) are crossing our fingers that the answer is YES!
(Photos: All the Teen Moms Facebook; Twitter)