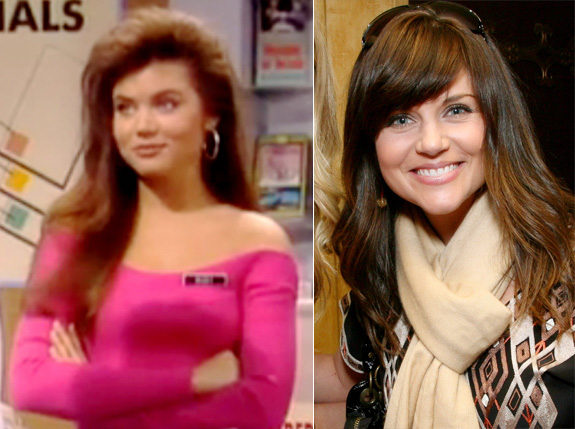 I know her name isn't Kelly Kapowski, but Tiffani Thiessen will always be Bayside High School's head cheerleader to me. (The Ashley has an intense obsession with the show Saved by the Bell and there's no one who can beat her in trivia. Go ahead and try, you won't stump her.)
Anyway, Tiffani is one of five or six stars that have been rumored to be appearing on the next season of Dancing With the Stars.
Snooki from the Jersey Shore is also rumored to be doing the show next season. (I can't wait to see her do the "Venereal Disease Waltz!") Queen Latifah, Mike Tyson, Rob Kardashian and some chick that used to date George Clooney have also been said to have signed up. However, Snooki, Tiffani and the Queen have all denied on their Twitters that they are appearing on the show, so who knows?
Access Hollywood asked their viewers  who they would most like to see appear on 'Dancing With the Stars' and  Tiffani was the overwhelming pick, snatching 43 percent of the votes!  If Kelly Kapowski's dancing on the show, The Ashley is going to put her hate for the show aside and attend the tapings (and possible After Party at The Max?!)
Tiffani beat out Snooki, Mike Tyson, the Kardashian kid and Elisabetta Canalis (who?!) in the poll. I guess she's way more popular than we thought (she was Bayside's homecoming queen though, so…go figure.)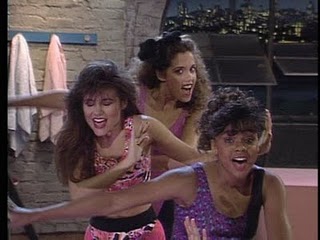 We already know that she's a good dancer; who could forget Kelly, Jessie and Lisa's music video? However, Tiffani does have a brand-new show debuting this fall, which might make it too hard to handle that and 'Dancing With the Stars.'
I don't want her to end up like her old pal Jessie did. ("So excited…so scared!")
Beat-ba-beat-ba-ba-beat Go Bayside!
(Photos: NBC, Rose/WireImage)