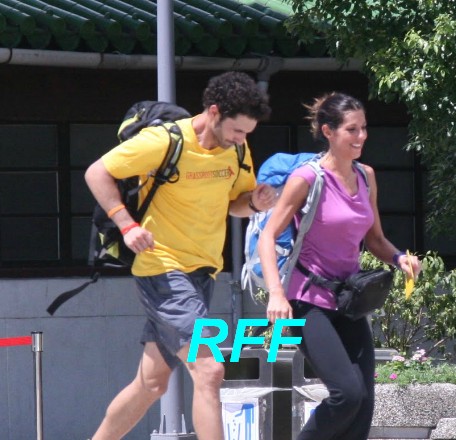 The Amazing Race is set to premiere its 19th (holy crap!) season on Sunday, September 25. The Ashley is a big fan of this show, even though it makes her feel super lame because she hasn't climbed the Alps or kayaked across the Nile, etc.
Anyway, this season is rumored to have some very cool contestants. Gone are the days where normal people could make it on the show; these days, you have to have a "hook" in order to get cast. You pretty much have to be blind, super-hot or a former reality show contestant to get on this show.
Speaking of former reality TV show contestants, Ethan Zohn and Jenna Morasca will be competing on The Amazing Race this season! They both competed on Survivor and have been together for years, even toughing out Ethan's long battle with cancer. The couple was spotted during filming at LAX Airport in June, as well as other places around the world. They will be the second team of 'Survivor' alum to compete on the show. (Rob and Amber were the first.)
Also rumored to be on this season?  Zac Sunderland, the first person under 18 to sail solo around the world. He's teamed up with his father Laurence.
Expect The Amazing Race to visit a few new locations this year, including Denmark. Other locations that the film crew has been spotted include Indonesia, Malawi and Belgium.
(All photos: RealityFanForum.com)