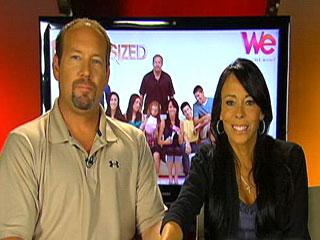 The Ashley has been fielding a ton of questions regarding the former spouses of Todd and Laura Bruce since the premiere of the second season of Downsized on Tuesday. Why people care  who the Bruces were married to before each other, The Ashley has no clue, but she has to give the people what they want.
The Ashley has already given you a little info on Laura Bruce's ex-husband (and father to her five children). You can read about him here.
So who is Todd Bruce's ex-wife?
Here's what we know: her name is Tonya and she lives in Arizona. She's very active in the lives of her children, Levi and Heather. (They stay with her part of the time, as they've said on the show.)
She's in her late-30s and works in the medical field. She even appears to have a good relationship with her children's stepbrothers and sisters (they're Facebook friends!)
I wonder if Tonya watches the show? It might be kind of awkward, but if it were me, I wouldn't be able to resist. I'd have to know what everyone was saying about me!
However, I can't recall a single time where Laura or Todd has said anything negative about Todd's ex-wife, which is very classy of them. In fact, I don't remember Laura ever saying anything negative about her ex-husband either, which shows that Laura and Todd are clearly above that kind of drama.
(Photo: Sacramento & Co.)