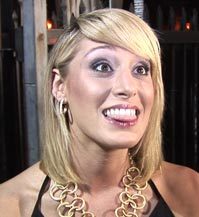 Why does this woman keep infecting my TV screen?
Bachelor Pad star Vienna Girardi is currently it talks to get her own reality show. If you haven't had your fill of her blubbering on 'Bachelor Pad' you may have the opportunity to see even more Vienna very soon! Gag me with a spoon!
"I am working on a project…it's in the talk stages," she told Stars Entertainment. "I am talking about doing something with my family. They are the most loving, genuine people you can ever met. Nobody has ever seen that part of my life. I grew up on a peanut farm."
"I grew up with cowboy boots, muddy and dirt bike, in a double white trailer," she said. "It's a side nobody has gotten to see. I want to do something to show that side of me. The only thing that people know about me is what I have been portrayed as, on TV."
Obviously, the best way to show the side of her that's not been shown on TV is….to do more TV.
No word if live-in lover Kasey Kahl will be farmin' peanuts with Vienna and her family. Perhaps he could even sing the theme song for the new show?