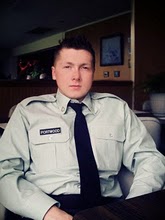 The Ashley isn't the only one that thinks that Teen Mom star Farrah Abraham needs to grow up and stop thinking the world revolves around her (and her unevenly cut bangs!)
Apparently, Amber Portwood's brother, Shawn, is also disgusted by Farrah's Snotty McNasty attitude. In a recent post on his personal blog, The Chili Man Chronicles, Shawn had some pretty critical things to say about his sister's co-star.
"Watching [last week's] episode…has done nothing but confirm what I have always thought to be true, Farrah is hateful," Shawn wrote. "Seriously, her parents bend over backwards for her and she is so negative toward them.  There is never a sentence that comes out of her mouth that is not sarcastic, disrespectful, or demanding. They support everything that she does, even when it is not necessarily correct."
He's a smart man, that Shawn. The Ashley has liked him since he made his appearance on the Water Park Extravaganza episode of 'Teen Mom' earlier this season.
(For the record, he isn't ignoring his own sister's nasty behavior. He prefaced this blog with the following: "Just so everyone is aware, I have never condoned how my sister acts.  I want to say that first before I continue with my rant."
Sean also revealed a few things about Amber's progress since she's been home from rehab. Apparently, she seems to be heading down the right path (finally!)
"She is also finally getting her High School diploma and getting her life on track.  She is taking the proper steps in her life to finally be an adult."