While creeping around The YouTube, The Ashley found this semi-awesome video that features some of the stuff we will see on the upcoming season of Teen Mom 2 (which is set to air this December! Yay!)
The video was shot by a guy in October of last year while aboard a party bus. (Warning: the video is pretty boring until the 1:50 mark, when he describes what's going on, so I'd just skip the whole first part.)
Also attending the party bus Halloween festivities were Chelsea (who is on crutches–don't know the story behind that) and Adam….and MTV. Despite the fact that MTV is getting pissed at him for filming because it reveals stuff that may end up on the show, the friend keeps the camera rolling. Around the 4:56 he gets yelled at by an MTV producer that looks like she's 12.
Soon, we are on the party bus and about the 4:20 mark, Chelsea and Adam step aboard. We don't get to see much else on the bus, since MTV apparently wouldn't allow the friend to post up any of that footage.
Later, after MTV (and Chelsea) leave, we see Adam and the friend talking to random girls while waiting in line for a haunted house thing. They are telling them all about how Adam's on 'Teen Mom,' (got to impress the local hos, you know).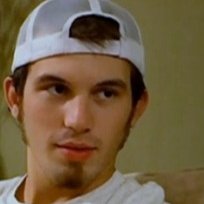 About the 6-minute mark we get to see a seemingly intoxicated Adam drinking a beer the size of a Kool-Aid pitcher. As you do.
I guess we'll have to wait until December to see the rest of what happened that night! I'm sure the restricted footage is way more exciting than this!
Until then…enjoy…at least until MTV makes him take it down…