Recognize this lil' cutie? Before she was a reality TV star, she was just another kid in the 1990s having a Lion King birthday party! (Come on, you know you had one too!) Check out that sick Simba cake!
These days, this girl is an MTV (and tabloid magazine) starlet who has seen her share of drama since coming into fame a few years ago.
So who is she? Find out below!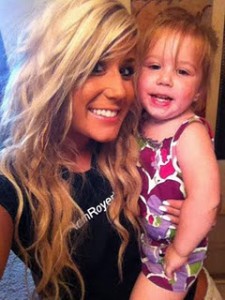 It's Chelsea Houska from MTV's Teen Mom 2! These days Chelsea prefers leopard print to Lion King accessories and is busy being a mom to her daughter Aubree (who looks a lot like Chelsea did when she was a kid!)
Wanna see baby photos of the other stars of Teen Mom and Teen Mom 2? Click here! (Chelsea has been added!)