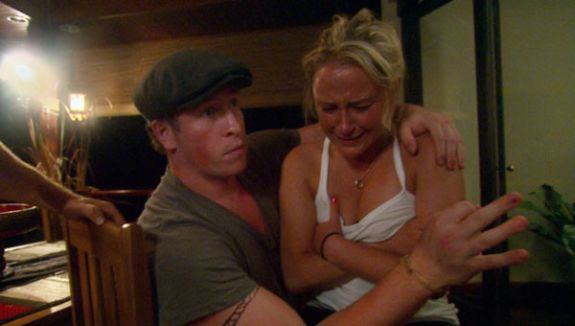 Now we know what happens when "people stop being polite and start getting real": they start sexually assaulting their cast mates with dental hygiene products!At least, that's what one former cast member of MTV's The Challenge: The Ruins is claiming.
Tonya Cooley, who starred on The Real World: Chicago and ended up doing many 'Challenges,' has filed a lawsuit against MTV, the Bunim-Murray production company and two of her former cast mates, claiming that she was sexually assaulted while in a 'Challenge' house.
In the lawsuit, Tonya claims that while filming 'The Challenge: The Ruins' back in 2009, she got drunk and passed out one night and two of her cast mates, Evan Starkman and Kenny Santucci, decided to have a little 'fun' with her. She says that the guys took off her bikini top and squirted lotion on her, before taking another male participant's toothbrush and rubbed the toothbrush around and inside her genitals, all while she was passed out and unaware of what was going on.
She also claims that they did all this while MTV cameras were rolling and producers knew about the incident but failed to tell her about it.
According to TMZ, which  broke the story last night, "the suit also claims female cast members were stripped of their bathing suits and that male cast members were encouraged by producers to inappropriately touch female cast members' bodies, including in intimate areas."
No one from the MTV camp has commented on the lawsuit yet.
(Photo: MTV)