Hold on to your trick-or-treat bags, kiddies…it's almost time for Halloween! The most spooktacular holiday of the year is just around the corner, and if you've found yourself without a costume this year, The Ashley is here to help by bringing you this collection of Halloween costumes, inspired by the TV show Teen Mom.
Why buy one of those slutty Leg Avenue costumes that every other girl at the party has when you could be something really original, such as Jenelle's mom or Gary Shirley? These costumes are guaranteed to make you the belle of the ball!
Choose from any of these fashionable looks!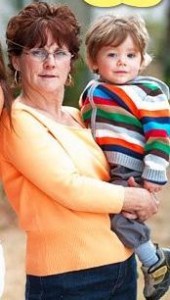 Barbara Evans Costume
Be the envy of all hot grannies by dressing up as Jenelle's mom! Impress your friends by reciting classic "Babs" quotes all night such as "High! High! Ya both high!" and "I'm busting my balls!"
The costume should include a "sassy" auburn wig, glasses and baby hip attachment. And a heart of gold!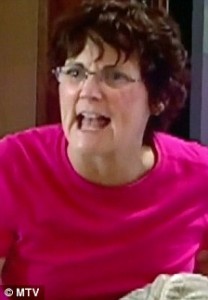 "Angry" Barbara Evans Costume
This costume should include everything mentioned above; however, to be "Angry" Babs you will need to make this face all night long. You can do it; it's for the kids.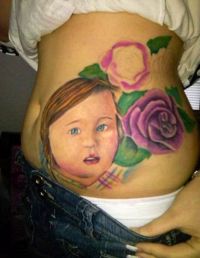 Amber's Tattoo Costume
You'll be sure to be a head-turner if you dress up as Amber's infamous Leah tattoo! (However, you may be too frightening to go out in public.)
To achieve this look, find a way to attach multiple roses to your head. Then, create a T-shirt with a picture of a baby that looks nothing like Leah Shirley. Finally, hang random multi-colored swatches of material from your chin. Fantabulous!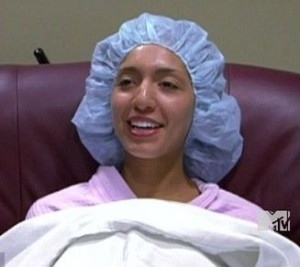 Plastic Surgery Farrah
Everyone knows that the girl that wears the shower cap to the Halloween party is the one that gets all the gentlemen callers!
The costume should include: a sporty blue shower cap and a device to make you go from an A cup to a D cup over the course of the night. You'll also need to treat everyone around you like crap to really pull this look off!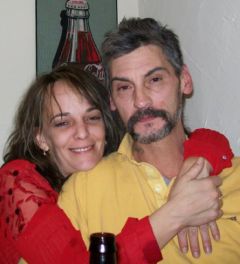 Butch & April Costumes
Couple costume alert! You and your beau will be the hit of the party if you're dressed up as everyone's favorite 'Teen Mom' lovebirds!
To complete this ensemble, you'll need a trucker hat, white tank and a house arrest anklet (for him!) You'll need a sassy t-shirt and plenty of ciggies (for her!)
Happy Halloween, Roundupers!