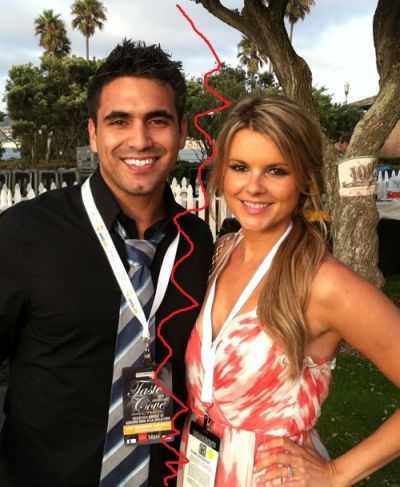 First Vienna and Kasey call it quits and now Ali and Roberto have broken up. If I didn't know better, I'd say this whole "met on a Bachelor show and fell in love" thing wasn't a good idea.
Oh, wait…
Life & Style Weekly broke the bad news to 'Bachelor' fans all over the country that Ali Fedotowsky and Roberto Martinez have called off their engagement and are no longer together.
'Bachelor' producers are probably more devastated than Ali and Roberto, as they had been toting these two as the next "Trista and Ryan" ever since Ali chose Roberto in the summer 2010 to be her Latin lover for life.
Unfortunately, with them breaking up, it just further supports the fact that the people who meet and get engaged on these shows have little to no hope of actually making it down the aisle. To date, the only 'Bachelor' franchise-related couples that have actually gotten married are Trista and Ryan and Jason and Molly Mesnick, although they don't really count since Jason technically chose the "other chick" and then decided that he actually wanted to marry Molly instead.
A rep for the couple confirmed to Life & Style that, "Ali Fedotowsky and Roberto Martinez have ended their relationship. As they go through this difficult time, we ask that you respect the couple's privacy."
Yeah…'cause that always happens.
Rumors have been flying for months that Ali and Roberto were on the rocks, with Ali leaving their San Diego love nest to soak up the fame in Hollywood with various events and hosting opportunities while Roberto stayed south to further his State Farm insurance agent career. (I'm not going to lie; I would totally change insurance companies just to have Roberto be my agent!)
A while back, Ali told multiple media outlets that their wedding was on hold after she broke her leg a few months back. She just didn't mention that the "hold" was to be permanent!
Wanna know something funny? The Ashley totally thought they were going to last! Thanks for bursting my bubble, guys.
Ali and Roberto have yet to comment about the split, however Roberto did tweet this insightful quote to his followers on November 14.
"Life is change. Growth is optional. Choose wisely."
Or….don't let 'Bachelorette' producers choose your future wife!
Update: Ali has already returned her engagement ring to Neil Lane, per her 'Bachelorette' contract requirements. Maybe they can recycle it and give it to the girl the new 'Bachelor,' Ben, chooses!