The Ashley headed to Hollywood last night for the X-Factor finale and is happy to bring you some behind-the-scenes tidbits and lots of cool red carpet photos and quotes from the stars!
The show itself was pretty amazing. The Ashley has attended many "finale extravaganzas," as well as awards shows, yet she has never seen any that had the glitz, glamour and pizzazz of last night's 'X-Factor' finale. The sets, the costumes and the special effects made it seem like you were sitting inside a 3-D movie. (Plus, they had a live girl in snow globe; how cool is that?)
Now on to the stuff you didn't see while watching the show on TV! The show was lacking in behind-the-scenes drama, despite the lineup of big-name stars which included Pitbull, 50 cent, Leona Lewis, Justin Bieber.
Throngs of teenage girls in the studio were devastated to learn that the Bieb-ster had already pre-taped his performance with Stevie Wonder (I knew they'd manage to sneak ol' Stevie in there somewhere. It wouldn't be a true 'finale extravaganza' without his mug in the mix.) Yes, kids, the studio was Bieber-less. His performance was actually taped following last Wednesday's episode. (They just had the judges put on the clothes they wore on the finale night so it looked like he was performing live. Hollywood is quite the trickster, ain't it?)
Other than that, it was pretty drama-free (i.e. boring) in the studio.  Melanie Amaro, Chris Rene and Josh Krajcik all sang Christmas hits, with Chris being eliminated first, followed by Josh. Melanie ended up taking home the fat $5 million check. (Which, incidentally, is actually a loan. Basically, Melanie is given the $5 million as sort of a cash advance on her future earnings. However, she will get to keep the money even if her album fails.)
Afterwards, The Ashley headed out to do press on the red carpet. Here's some cool photos and quotes she got from the show's stars!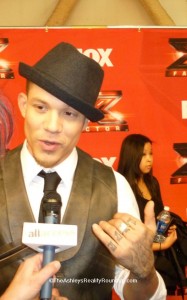 Third-place finished Chris Rene on his life after 'X-Factor':
"You guys know my story [he was addicted to drugs and alcohol up until earlier this year]. I never thought I'd be here but I am and my life has changed. After [I was eliminated] L.A. Reid told me 'you're going straight to the top!'"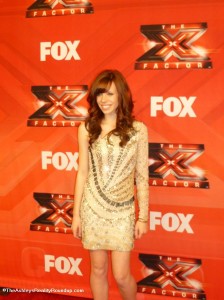 Finalist Drew Ryniewicz on getting to sing with her idol, Justin Bieber for the finale:
"Getting to perform with Justin is more than I could have ever asked for. I got the best Christmas present in the world to get to sing with him! Actually, this whole competition was the best present I could ever get."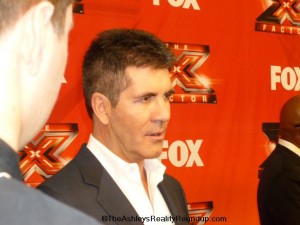 Judge Simon Cowell on his personal 'Idol':
"I would have loved to meet Frank Sinatra. That would have been equivlant to Drew meeting Justin. I didn't have the chance though."
Simon on his plans for winner Melanie:
"We have to make a decision within the next 24 hours of which label she will sign with. Three labels want to sign her right now."
(Side note: Um, yeah, I got to meet Simon Cowell. Feel free to be a little jealous!)
Judge Nicole Scherzinger on winner Melanie:
"She is a voice from the heavens. I felt connected to her right from the start."
(Side note: After she did some interviews, Nicole went over to a corner and was pouting about something. I tried to creep over and hear what she was whining about but I couldn't get close enough, thanks to the damn security!)
I was hoping there would be more cool off-camera drama, but unfortunately, there wasn't much last night. Oh well, there's always next season!
Last side note: The Ashley wants to send a special shout-out to Roundup fan, Eric, who attended the finale last night as well! The Ashley loves to meet Roundupers!