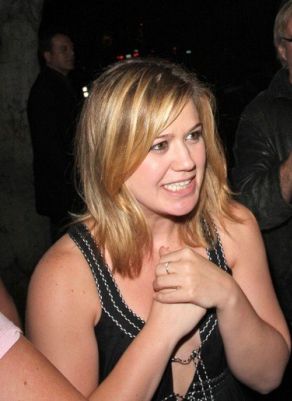 Oh, Kelly Clarkson…you'd have to expect that this might now go over that well with 'Idol' fans…
It's just been reported that Kelly will appear in the upcoming season of The Voice as a guest mentor (along with Babyface, Jewel and Alanis Morissette). 'The Voice' resonated with singing show fans when it debuted last season and became an instant hit. It also became American Idol's biggest rival, making Kelly's decision to appear on the show look like a slap in the face to the show that made her famous.
In case you've forgotten (since it was back in 2002, which is basically a million years ago in Hollywood time), Kelly Clarkson was a broke waitress before she appeared on (and won) the first season of 'American Idol.' Of course, since then, she's gone on to become internationally famous and one of the most successful former 'Idols' ever (second only to Carrie Underwood).
Kelly will work with 'Voice' judge Blake Shelton to mentor his contestants. (They're managed by the same company.) She spent New Years Eve with Blake and fellow 'Voice' judge Adam Levine. As you can see from the photo below, the gang had a great time together.
"The thing I love about 'The Voice' is that they're more mentors — they're not judges," Kelly told the New York Post last September. "I would never really want to be a judge, just because I don't want to break people's hearts. I so want to audition for 'The Voice' and see if I can get the chairs to turn around!"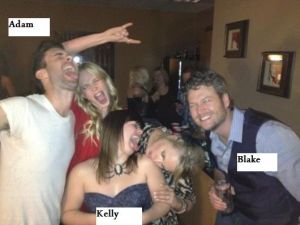 I'm sure 'Idol' producers Nigel Lythgoe and Ken Warwick would like to turn their chairs around and kick Kelly in the face for being a traitor to their show. (They're also probably mad that they didn't think of having her on their show first.)
The Ashley, however, is excited to see Kelly on 'The Voice.' She's always seemed so real and down-to-Earth and is exceptionally talented.
What do you guys think? Was it wrong of Kelly to cross enemy lines and join 'The Voice?'
(Photos: Baur Griffin; Twitter)