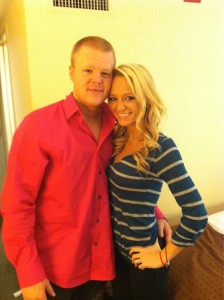 Teen Mom star Maci Bookout was  sent packing from a Disneyland-area hotel after getting into an explosive fight Saturday with boyfriend Kyle King!
Security kicked Maci and her entire crew out of an Anaheim, California, Marriott after her drunken fight with Kyle caused numerous noise complaints from other hotel guests!
The couple– in town on vacation (and to film 'Teen Mom'-related stuff)– allegedly went all 'Whitney and Bobby' on each other after the group had dinner and drinks at McCormick & Schmick's restaurant.
Later that night, Maci and Kyle got into a huge fight at their hotel and it allegedly turned physical. (They were taking a cue from their 'Teen Mom' co-star Amber Portwood, apparently.)
Security was called and Maci and her group were escorted out of the hotel for fighting!!
This is straight from the security guard that kicked them out:
"They were drinking a lot the day before. But Saturday night we received a bunch of noise complaints and the last time we heard Maci and her boyfriend arguing. He called her white trash and a whore. The door was propped open and we entered. He had his hands on her arms. I told them to get out and that was pretty much it."
To be clear, he did not see either of them actually hit the other. However, he can confirm that they were argueing loud enough that it caused many hotel guest to complain about the noise. He also said that several guests reported that it sounded like there was a physical fight going on in the room.
Maci and her friends left the hotel soon after and did not cause a scene.
Even after the fight on Saturday, the crew continued to party. Maci and her friends spent last night at the Heat Ultra Lounge, a nightclub down the street from Disneyland. (The Ashley's been there and can tell you it's a total douchefest.) No word on how 20-year-old Maci got into the 21-and-over club though, but they were sitting in the V.I.P. area with a security guard for most of Sunday night.
Maci has moved to a hotel in Los Angeles to be closer to the studio where she will be filming her 'Teen Mom' stuff. (Her friends have gone home.)
Things appear to be OK between Maci and Kyle now; however Maci retweeted this cryptic tweet today:
"NEVER make permanent decisions on temporary feelings."
Given the fact that Maci always seems to be tweeting photos of her and her friends partying, this really didn't surprise me when I heard it. Some of Maci's 'Teen Mom' co-stars (particularly Jenelle and Amber) catch a lot of flack from the media for partying, but Maci always seems to fly under the radar when it comes to this stuff.
UPDATE: To clarify, Bentley did not come on the trip (he's at home in Tennessee). Also, they are not filming the show, Maci is here to film 'Teen Mom'-related stuff, but not the actual show.
Kyle has taken to his Twitter to somewhat deny The Ashley's story. He tweeted:
"Deff no fight we moved hotel to keep from driving ad far hotel people didnt like us dont think no fighting for us @MaciBookoutMTV are good!"
Um…I'm sorry, what?! I can barely understand this tweet enough to decipher it.
Anyway, naturally Kyle is going to deny this; that's what celebrities do (and yes, they count as celebrities). Also, as for the hotel "disliking them," I'd imagine that the hotel staff wasn't too thrilled to have underage drunk kids fighting loudly at their hotel and disturbing other guests.
The Ashley stands by her story.
(Photos: Twitter)