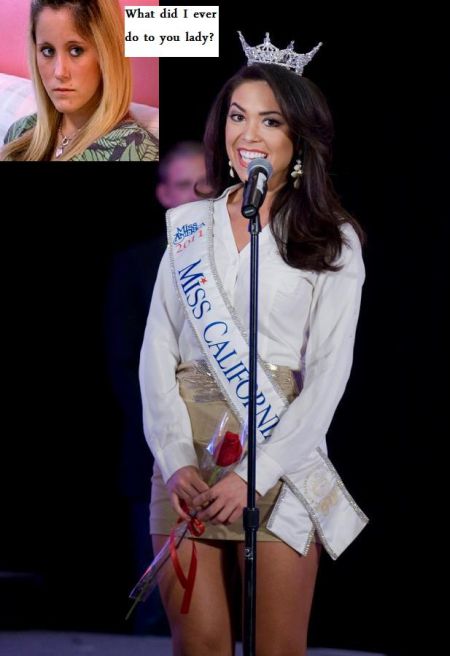 Miss California pissed off a whole plethora of Teen Mom fans during the final rounds of the Miss America pageant tonight. (I can't lie; I love watching that crap, regardless of how ridiculous it is.)
Miss California, Noelle Freeman, made it to the final round of the pageant, which is the "Questions" round. (You know, the one that they get to show off their smarts and talk about current events.)
She received her question from one of the judges, Mark Ballas (um, isn't he the guy from Dancing With the Stars? Why the hell is a judge? What does he know about beauty pageants?) Anyway, he asked Noelle if she thought that the show 'Teen Mom' glorifies teen pregnancy.
Her answer was just odd. She said that she feels that those shows do glorify teen pregnancy. Then she started rambling about things that make no sense, saying something like, "I support those TV shows but it's our responsibility to make sure we're taking responsibility for our actions" and "these shows support the entertainment industry and the 'appetite for reality television."
I'm sorry, what? Those thoughts don't even go together. Maybe she got some spray tanner in her ear and it's seeping into her brain?
It kind of made me think of this classic beauty pageant moment (a.k.a. the best moment of beauty pageant live TV ever!)
The judges didn't like her answer either because she recieved the least amount of votes and became the "fourth runner up," which means that four people have to die or have sex scandals before she can be Miss America.
Miss Wisconsin took home the title of Miss America 2012. Apparently, they don't wear waterproof mascara where she comes from because she was dripping with Covergirl Lashblast by the end of her Miss America walk.
(Photos: MTV, MissCalifornia.com)