It's been a big week in Teen Mom Land. Those of us that have no life and follow everything these girls do (um, yeah, that would be me) probably already know the big 'Teen Mom'-related headlines of the week, therefore The Ashley isn't writing about most of them. However, she would like to chime in and offer her opinions on these stories:
Amber Portwood Sentenced to Rehab in Lieu of Jail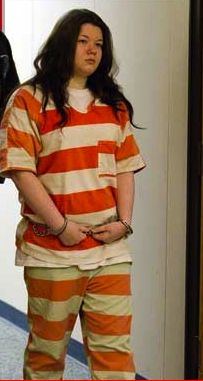 Amber Portwood faced an Indiana judge this week to receive sentencing for the drug charges and probation violations that she collected back in December. As you probably know, Amber has been "chilling" in  jail for the last two months or so while awaiting sentencing.
She showed up Monday morning looking way-less orange than ever before (in terms of her skin color, not the tasty orange-and-white striped jumpsuit she was sporting.) She also appears to have put on a few pounds during her time behind bars. (Apparently that tasty Indiana jail food was too much to resist!)
Actually, it's a relief to see some added weight to Amber's frame, as it's an indication that she is no longer abusing prescription medication, which is likely what made her lose so much weight to begin with.
The judge sentenced her to mandated drug rehab instead of the five-year prison term she was facing. (Click here to read Starcasm's story about Amber's day in court to get all the details!)
Maci, Kail & Catelynn Appear on Dr. Drew's 'Lifechangers' Show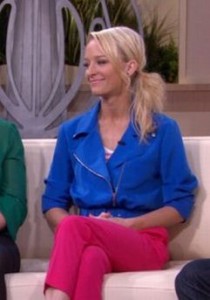 Back in January, the girls headed out to Los Angeles to tape an episode of Dr. Drew's new show. The trio joined Dr. Drew at a high school in LA county to discuss the importance of proper birth control.  If you would like to watch a short clip of the show, you can do so by clicking here.
What I want to know is why the hell is Maci dressed like a background dancer for Olivia Newton John's "Let's Get Physical" video? All she needs is a sweatband and some legwarmers and she's all set! I can live with the pink pants, girl, but that side ponytail has got to go!
Maci & Kyle Break Up…and Tabloids Battle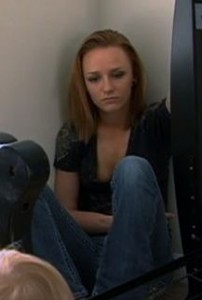 Rumors are swirling that Maci and her boo, Kyle King, have called it quits after just under two years together. After Maci unfollowed Kyle on Twitter, and tweeted some cryptic tweets (not to mention this little incident) it was fair to assume that the Tennessee teen lovers had broken up. (Click here to read all of the tweets in question.)
US Weeklywas the first tabloid to report the split and claims the split was caused because Kyle couldn't take Maci's pressure to have another baby and get married. (This is most likely not true. I know who their source is for the info and I wouldn't trust it…just saying).
OK! fired back with a story this morning proclaiming that Maci and Kyle are still together, based off of a tweet Maci made in response to the US Weekly story.
"Well once again the tabloids are wrong. Don't waste your time," she tweeted this morning.
So to answer the questions that people have been asking The Ashley:
So did they break up? Most likely, in The Ashley's professional opinion.
Why haven't they confirmed it? Because they can't. Both Maci and Kyle are likely under contract with MTV and, because their relationship is a major part of Maci's storyline, they can't confirm or deny anything, as to not spoil what we'll see in Season 4.
Which magazine is right? They probably both have pieces of the truth, but at this point, who really cares?
(Photos-Amber Butterworth/Massie/SplashNews;Maci- Lifechangers HLN)