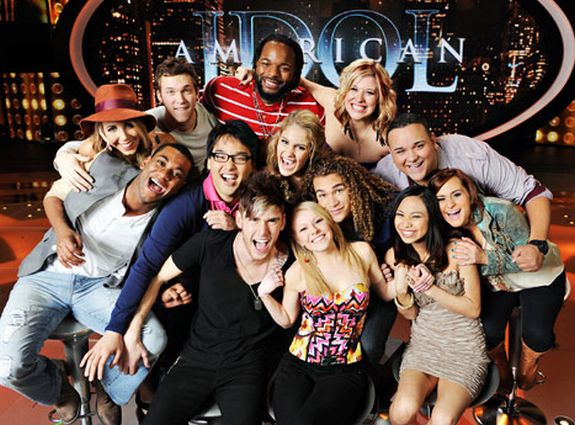 Last night on American Idol, the kids that make up the Top 13 had their first (and for two of them, their last) chance to sing on the big stage for America.
For the first "real" show of the season, producers chose two themes: one for the guys and one for the girls. The theme for the girls was the songs of Whitney Houston (since she died and stuff, in case you hadn't heard). The guys' theme was….wait for it…Stevie Wonder!
For the love of God, why must the wheel out Stevie Wonder at least three times a year on this crappy show? Does the guy have stock at Fox or something?! I would have bet my [unborn] first child that we'd being hearing "Superstition" sooner rather than later on this season. They couldn't even wait a few weeks– they had to do it for the very first episode!
Before we move on, I do have another beef here: why the hell is it suddenly OK for girls to sing Whitney songs? For 10 years anyone who dare sing a Whitney Houston song was basically tarred and feathered on stage for attempting to do so, but now that she's dead, it's not only OK but required?! What the hell?
The first singer of the night was Joshua. Every time this guy sings I feel like I should be sitting in a church pew wearing an enormous hat.  Anyway, I really enjoyed Joshua's performance, especially because he didn't choose "Superstition." Don't worry…I'm sure someone else will weasel it in there somewhere.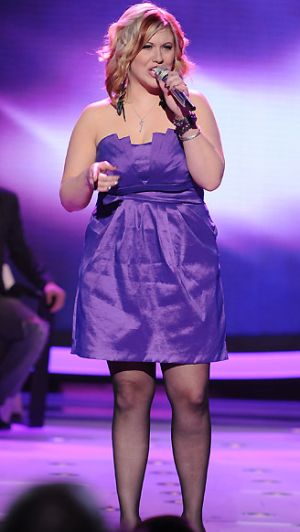 Next up was Lady Gaga Elyse. I loved her last week. This week…not so much. Her rendition of "I'm Your Baby Tonight" was way too cheesy and awkward for her. However, she did get a few votes from The Ashley for not wearing that annoying hipster hat she always has plunked on her head.
Jermaine performed third and I was pleased to see that he once again did not dip down into the part of his voice that's so low that it's almost creepy. He may be in trouble, however, because his performances often sound the same.
Erica stepped on stage looking like she had busted out her prom dress from 1999. Who lied to her? Anyway, she sang "I Believe in You and Me," and at some points, dropped her voice so low that it sounded like Jerome was singing backup for her. Don't get me wrong; her voice is  good but I don't think she will last long, mainly because she has zero appeal to the grandmas and teeny-boppers who pretty much run the votes over at 'Idol.'
Up next was Colton, who chose some crappy song called "Lately." Of course he said it's one of his favorite songs ever. Yeah, I'm sure. All "indie rock" kids have that song on permanent repeat on their iPod. Anyway, the song was terrible, making me wonder how even Steven Wonder had a hit with that steaming pile of crap.However, Colton did the best he could with it and will likely stay.
For her performance, Shannon (who is only 16 but looks about 25) chose Whitney's classic "I Have Nothing." Most girls that attempt to sing that song end up brutalizing it, and Shannon was no exception. She hit a few really bad notes, which kind of cracked me up, but I did feel bad for the kid. Forcing girls to sing Whitney Houston songs pretty much sets them up for disaster.
DeAndre really surprised me this week. He's notoriously annoyed me (but who doesn't?) but his performance this week was so good I might buy it on iTunes. (I'm lying, of course, but you get the drift.) He sang "Master Blaster" and gave it a cool, reggae vibe, making everyone that had performed before him look like amateurs.
Up next was Skylar, who, as a country singer, was expected to struggle singing an R & B song. She chose "Where Do Broken Hearts" go and proved everyone wrong. You can't help but root for this girl. She's quite the spitfire. I see Top 3 in her future!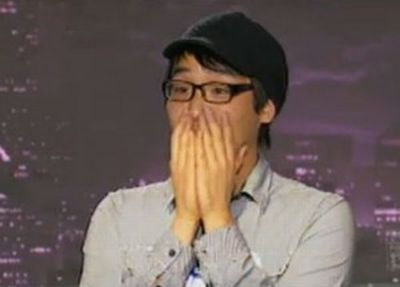 After handing out autographed photos of his face to "Jimmy Iveen" and "Marry," HeeJun did a decent job singing his Stevie song. Am I the only one that thinks he should just quit this whole singing thing and be given his own sitcom immediately? He's hysterical. Maybe they'll let him sing the theme song or something?
Holly, the little blond girl with the  Boston accent, chose "All the Man That I Need" for her song. Um…you're 12. You don't need a man. I feel uncomfortable hearing her sing this song, mainly because I know she's probably singing about some guy in her science class.
Jeremy (how the hell did this guy make it on the show?) chose "Ribbon in the Sky" for his performance. It was inevitable that someone would end up singing that song. J-Lo, who was basically responsible for him making the Top 13, has to pretend to cry every time he sings just to warrant her decision. I think that's more annoying than all those Jennifer Lopez Kohl's commercials that we are forced to watch in between segments. I pick him as one of the first to go!
Jessica was the girl that had the balls to take on "I Will Always Love You," which is Whitney's most iconic and challenging song. Of course, I was expecting a complete trainwreck as per usual when someone sings this song, but Jessica blew everyone away. She looks like a girl you'd see working at Cinnabon in the mall, yet she has the singing chops of a 45-year-old seasoned veteran. She has one of the best voices I've heard on 'Idol' in a long time!
Phillip closed the night with "Superstition!" He changed up the melody a bit and delivered a solid performance. I know he's a favorite to win this season, but am I the only one that thinks all of his performances sound the same?
One guy and one girl will get the boot tonight. Here are The Ashley's predictions on how it will all go down:
Going Through: Jessica, Phillip, HeeJun, Skylar, DeAndre
Going to Float Somewhere in the Middle: Elyse, Joshua, Colton, Holly
Going To Be in Trouble: Erica, Jeremy, Shannon, Jerome
(Photos: FOX)