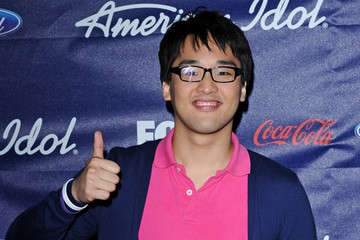 Faithful Roundupers know that The Ashley loves her American Idol, but even she has to admit that things on the 'Idol' set have gotten a bit stale. (Um…maybe it's because you make people sing the same stupid Stevie Wonder songs every other week?) With shows like The Voice and X-Factor just waiting to pluck from Idol's once-untouchable fan base, the show's producers are starting to have to think of ways to keep things entertaining.
Enter Heejun Han.
While Heejun is an above-average singer, no one can honestly say that he is in the same talent bracket that say, Carrie Underwood is. The 'Idol' judges cut many more-talented singers this year (two words: Johnny Keyser!) yet Heejun made it through. The reason? Um…probably this:
(Scroll to the 28 second mark)
And also this….
Heejun is a breath of fresh air for 'Idol.' We've had many contestants that we have tuned in each week to see what they're going to sing, but never a contestant that we can't wait to hear what he'll say. HeeJun's one-liners are classic!
After reading this, I kind of want to put HeeJun in my pocket and make him my best friend. He's adorable.