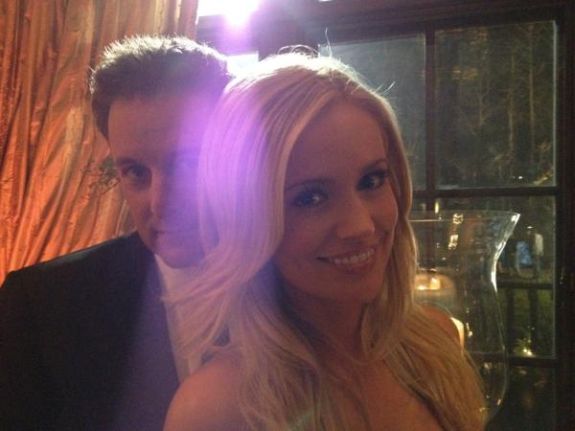 Some Bachelor franchise fans haven't even finished watching the final episode of Ben's season on their DVRs yet, but the show's producers have already started production on the next season!
New Bachelorette star Emily Maynard began filming for her season tonight at a mansion in North Carolina. (Click here for all the details on Emily's dream house!) The filming began at sundown and will go into the wee hours of the morning, as per usual with most of the show's cocktail parties (although from what former contestants have told The Ashley, the first night is notoriously long, often going until 5 a.m.)
"We start at sundown…more romantic," producers Mike Fleiss tweeted around midnight. "The real-life version of The Vow is unfolding right before our eyes…"
He gave fans a play-by-play of the night's events, informing us of some nuggets that we may or may not get to see on camera:
"One of the limo 3 guys has food poisoning… Ewww!"
"Just spoke with Emily. She is very excited about the dudes!"
"Emily just told one of the guys he walks like he's on a runway."
Producer Robert Mills also joined in on the Twitter updates from Emily's first night with the guys.
"One word to describe Emily's guys – handsome," he tweeted during the first cocktail party. "[Emily] is so great with the guys. Attentive, engaging. I can't wait for all of you to see it."
Mike Fleiss also revealed that before the big night began, Emily "served the crew a delicious lunch featuring homemade craw dads."
Wow…even I'd marry her!
Of course we'll have to wait until the show airs on May 14 to get all the details of Emily's first night as 'The Bachelorette.' Although not all fans of the show were excited to hear that Emily would be the star of the new season, The Ashley is thrilled! I think Emily's sweet personality, combined with the new shooting location, is just what the show needs to revive itself after Ben's notoriously boring season!
(Photo: Twitter)