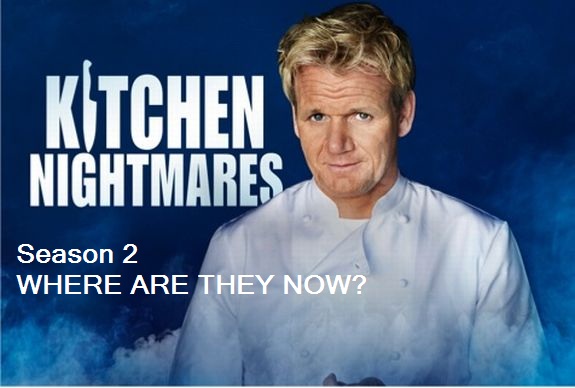 (Note: This post was updated in August 2014!)
The Ashley is a big fan of the TV show Kitchen Nightmares, and, as you faithful Roundupers know, she also loves to do "Where Are They Now" articles. A few months back, The Ashley did some sleuthing and found out what's happened to the restaurants that Gordon Ramsey visited during the first season of the show. (Click here to see what's become of the Season 1 restaurants!)
This time, she focused on the Season 2 restaurants and found out what happened to them after Gordon left and the cameras stopped rolling. Unfortunately, there isn't much good news to report.
Sabatiello's (Stamford, Connecticut):
Click here to watch a clip from the episode.
Sabatiello "Sammy" Settembre, the owner of this Italian steakhouse, was in debt over $1 million when he called Gordon to help him out. He was known for his hot temper, poor customer service and somewhat crazy family/kitchen staff. The owner got all crazy when Gordon criticized his mother's lasagna recipe, causing a huge fight that led to the owner closing his restaurant for the night and kicking everyone out. (Always a smart move!)
Gordon worked with Sammy to change the menu, and calm his crazy-ass temper a bit.
Status as of 2014: CLOSED! The restaurant closed down, but that was just the beginning of its owner, Sammy's troubles. A few months after the episode aired the business went belly-up, and in December 2008, he was about to be evicted from the property.
Sammy decided to have some fun with the place before the bank took it from him. He allegedly trashed the restaurant, causing more than $20,000 worth of damage, according to an article in the Stanford Advocate. He was later arrested in 2009 for first-degree criminal mischief for the damage that he caused. (According to the article, "the damage — smashed mirrors and decorative glass — was found December 4, when a state marshal and landlord tried to serve Settembre with eviction papers, court papers state.")
Sammy later opened up a pizzeria in a nearby town, but it too failed and he had to declare bankruptcy. He was later arrested again on felony larceny charges after "a company told police he charged more than $20,000 on a credit card given to him to pay a deposit for a Christmas party this past winter," according to this article.
Handlebar (Mt. Sinai, New York):
Click here to watch a clip of the episode.
Handlebar was the first failing restaurant that Gordon visited during Season 2. The Long Island restaurant not only had an angry chef, dirty fridges and customers that were screaming at each other. The nasty fridges disgusted Gordon (despite the fact that the chef and owner insisted that they were "a hell of a lot cleaner now than they were six months ago!" Um…did you have dirty diapers and pickled feces in there before? Gross!
Gordon turned the restaurant into a gastro pub and things were looking good when Gordon revisited the place a year later.
Status as of 2014: CLOSED! Even though things were supposedly "looking up" for Handlebar when Gordon did the follow-up show, the restaurant closed soon after in 2009.  Apparently the bad luck continued even after Handlebar closed down. The restaurant that opened in its old location only lasted a year and closed down in 2010. It reopened but then closed again in 2011. Currently, the spot sits empty.
Giuseppi's (Macomb Township, Michigan):
Gordon visited this family-owned Italian restaurant and found not only a completely dysfunctional family (husband and wife about to divorce, father and son at odds) but also crappy Italian food that's cooked in the microwave. (Um, if I wanted that, I'd go buy some Spaghetti O's!)
Gordon tried to repair the restaurant's terrible menu, as well as fix the family dynamics by letting the son take more control of the restaurant to let his ailing father have more time to rest.
Status as of 2014: CLOSED! The restaurant enjoyed a booming business after it appeared on the show, with one Yelper saying, "Basking in the glow of their Gordon Ramsey makeover on a September 2008 edition of 'Kitchen Nightmares' this place has been hard to get into" However, by 2009 things had slowed down and, although it got rave reviews on restaurant review sites, Giuseppi's closed down.
Black Pearl (New York, New York):
Click here to watch a clip of the episode.
The episode featuring Black Pearl was one of my favorites. Gordon visited the New York seafood restaurant and met up with its three owners: one who hates being there, one who hates his partners and one that's a complete card-carrying douchebag who everyone hates. They weren't even able to work together at the same time, let alone run a successful restaurant.
Gordon changed the menu and attempted to get the staff and owners to work together in order to save the restaurant.
Status as of 2014: CLOSED! This is probably one of the most interesting stories to come out of Season 2. Four days after the "Black Pearl" episode aired, the restaurant shut down. Two weeks after the restaurant closed, the owners were still maintaining the restaurant's website– but only so they could use it to bash Gordon Ramsey! In a series of rants, the owners wrote that Gordon's changes caused the restaurant's revenues to drop and ultimately caused the business to fail!
"Well, after three years, we have fried our last clam and shucked our last oyster. On October 1 we sold our lease and fixtures to someone who may be better equipped to handle the exceedingly high cost of doing business in New York City," the owners posted on the website. "As you may know, in February, we filmed an episode of Kitchen Nightmares, at our restaurant, hoping for the best. We were naive, believing that the show was at least somewhat honest; we truly felt we could learn something from that jerk, and we anticipated a solid boost in sales from the publicity.
"The sad fact is, from the beginning, it was clear that the show was a joke," the rant continued. "From the very first day they were initiated, the changes Gordy Ramsay made were ridiculed by the press, hated by our regular customers and were the direct cause of a 50% drop in revenues. And, we were never able to recover financially." To read the full post, click here.
This quote says it all in regard to how the owners felt about their reality TV experience though.
"While I hope Gordo meets an untimely death so that I can dance on his grave, it is time to move on."
Geez, tell us how you really feel, buddy!
Cafe 36 (La Grange, Illinois):
Click here to watch a clip from the episode.
Gordon was surprisingly nice to this restaurant's husband and wife owners, due to the fact that they were nice, hard-working people that just wanted to make their lifelong dream of owning a restaurant work. Still, they were in need of a major menu overhaul, as well as a change of staff (especially the head chef whom didn't know how to thaw food properly!)
Gordon changed the menu and some of the staff for the restaurant's relaunch and things seemed to be back on track for the hardworking couple.
Status as of 2014: CLOSED! Sadly, the restaurant shut down for good in April 2009 and there were reports that the owners ended up homeless after putting their life savings into the sinking restaurant. (I can't confirm this, however.)
It seems the couple has gotten back on their feet and were opening a new restaurant in 2011, according to a Gayot story.
Sante La Brea (Los Angeles, California):
Click here to watch a clip of the episode.
This healthy Californian restaurant featured primarily vegan and vegetarian food, which was a first for Gordon. He dealt with the restaurant's disrespectful staff, and was angry to see that the restaurant was practicing unsafe food preparation, not to mention serving "fake" fish. He was also quite amused by the manager's insane sweating problem!
Status as of 2014: CLOSED! The restaurant shut its doors on June 1, 2011, when the owners decided to sell it.
"We are selling the restaurant," one of the owners told a fan on the restaurant's Facebook page. "The new owner will have an entirely new concept, tho, it will no longer be Sante La Brea. It's a very bittersweet time for us… We have been wanting to move on to other ventures for quite some time, but we feel sad about letting our loyal customers down. It's funny – we're finally selling at a time when our business is absolutely Booming (more than ever before, actually) – so it's certainly not a wise financial move on our part – ha! But we are so fortunate that we can go out on a celebratory note."
Hannah & Mason's (Cranbury, New Jersey):
Click here to watch a clip from the episode.
Gordon visited this romantic high-end French-style restaurant during Season 2 and found that the owners only opened the place a few nights a week. That, combined with the confusing menu and a feud between the two owners, was causing the restaurant to slip into the red, with only its catering business keeping things afloat. Things got really bad when Gordon discovered severe mishandling of food and had to shut down the restaurant on Valentine's Day for being unsafe. (He even stretched 'Caution' tape across the kitchen!)
Gordon decided the restaurant would fare better if it had a more-casual feel to it and an Americanized menu. He also worked with the owners to improve their relationship.
Status as of 2014: CLOSED! According to an article in NJ Monthly, the owners claim their customers hated the changes Gordon made and they reverted back to their old ways even before the episode aired.
"He thought the telecast might bring him new business, but it only produced phone calls from fans of the show chastising him for not taking Ramsay's advice," the article said. "Citing the loss of corporate catering business in the nosediving economy (it had been half his revenue, he says) Posner closed Hannah & Mason's in January of [2009], though he says the show had little or no effect on the decision."
Here's another good article regarding the restaurant's experience on the show.
Want to know what happened to the other Season 2 restaurants? Unfortunately, they suffered the same fate as the restaurants described above.
J Willy's (South Bend, Indiana): CLOSED! This BBQ joint lasted a lot longer than most of the Season 2 restaurants. Sadly, they closed down in May 2011 due to the poor economy in the area. The owner wrote this very sweet thank you note to Gordon Ramsay, and insisted that the time Gordon spent there taught him a lot about running a restaurant and how to be a manager.
Fiesta Sunrise (West Nyack, New York): CLOSED! Gordon was particularly hard on the owners of this Mexican restaurant, mainly due to how disgustingly dirty their kitchen was. Although Gordon made changes to the way the family kept the kitchen, the restaurant was seized in November 2008 for not paying its back taxes and was shut down for good before the episode even aired.
Jack's Waterfront (St. Clair Shores, Michigan): CLOSED! Gordon criticized this restaurant for its stale and dusty decor and lack of concept. Gordon simplified the menu and gave the place a fresh, new look. The owners kept Gordon's suggestions but were forced to close down. They later reopened the restaurant and added a dance floor and new menu items, but once again, the place failed. The owners later opened a similar restaurant called Jack's on the River, which, from what Yelpers said, had the exact same menu as Jack's Waterfront. Unfortunately, that restaurant suffered the same fate as the original restaurant.
Trobiano's (Great Neck, New York): CLOSED! This Italian restaurant had an interesting back story. The owner, Anthony Trobiano, asked his girlfriend's parents to buy him the restaurant. And they did. (What? That's never happened to you?) Gordon found plenty of problems at Trobiano's: an owner who didn't know anything about food, a kitchen littered with dirt and (ew) mouse droppings, and a staff that hated their jobs. Despite Gordon's changes, the restaurant was shut down and seized by the bank after the owner didn't pay his taxes, according to this article. Anthony later became a chef at another Long Island Italian restaurant.