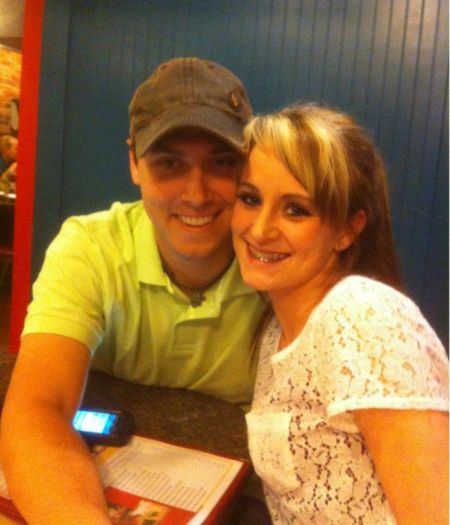 According to the Reverend who supposedly performed the service, Teen Mom 2 star Leah Messer married her fiance of four months, Jeremy Calvert, on Tuesday!
According to this story in the local newspaper, MTV put in a call to Rev. Marty Gute of the Catlettsburg Wedding Chapel in Catlettsburg, Kentucky, asking if they could film a scene for 'Teen Mom 2' there. The Reverend agreed, despite not having any clue who the couple was.
"When I asked what was going on, they said it was for the Leah Simms wedding, and that name didn't ring a bell at first," the Reverend told the paper. His wife and daughter, who are fans of the show, had to fill him in on who he was marrying!
He's a man of the cloth…I have a hard time believing he would lie about something like this just to get a little fame.
Here's all the details of Leah and Jeremy's big day!
Only about 15 people attended the event, including Leah and Jeremy's parents, and Leah's twins, Ali and Aleeah.
The wedding was an hour late in starting due to a hold-up with the rings.
The couple was filmed before the ceremony as the obtained their marriage license from the Boyd County courthouse. They were also filmed purchasing their wedding rings.
The couple chose the chapel in an attempt to stay out of the media, according to the Reverend. (Good luck with that guys! The Ashley is on it!)
Leah and Jeremy plan to have a larger, not-made-for-TV wedding in the near future.
MTV is doing its best to keep the Leah/Jeremy wedding on the down-low, even asking the Reverend's daughter to keep the news off of the Twitter and Facebook. (Apparently they forgot to ask the Reverend not to give interviews to the local hick newspaper interview.)

Of course, 'Teen Mom 2' fans are bound to be skeptical of the story. However, from what The Ashley can gather, this story is totally legit.
Leah and Jeremy's relationship has been on the fast track since they met last summer. In December, Jeremy proposed and by January, Leah had announced that she was pregnant with their child. (She later miscarried.)
The Ashley will update this story when she sleuths out more information!
Shoutout to All the Teen Moms for finding this gem of a story!
(Photos: catlettsburgweddingchapel.com)