Ever wonder what it would be like to wake up next to super-hot Biggest Loser trainer Dolvett Quince and follow him around for the day? (At the risk of sounding like a creepy stalker, I must admit that this thought has crossed my mind once–or twenty–times.)
Dolvett recently posted this YouTube video of what a typical day is like for him, hoping that it will show fans of the show that, despite being a fitness God, he's just a regular person who gets stressed out and has self-doubt.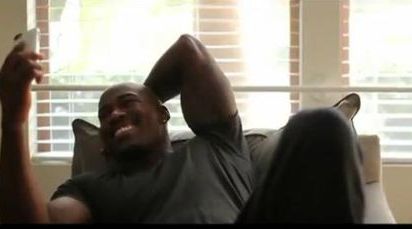 We start with Dolvett rolling out of bed (in his undies!!) and ordering breakfast, answering Twitter questions from fans, doing yoga and going about his day.
"It's really difficult for me to have a responsibility at the ranch, have responsibility of the contestants, meeting my own agendas, and running a gym in an entirely different state," Dolvett said in the video. "I get overwhelmed with just giving myself to so many."
Things we learned from this video:
Dolvett wears boxer-briefs (um…swoon!)
You should eat something as soon as you get out of bed so that your body can start metabolizing. (I'm assuming that donuts don't count. Damn.)
Dolvett has to shave his head every morning.
Dolvett can do some crazy things with his abs! (Um..hubba hubba!)
Dolvett loves working out, cooking and painting, and doing these activities is how he escapes from stress.
Everyone needs to take a "time out" every once in a while. (The Ashley is still working on learning that one! The reality TV gossip world never sleeps!)
Dedication and hard work are the keys to achieving your goal.
I don't think it's possible that I could love Dolvett anymore than I already do. I wish I could keep him in my pocket to motivate me to do the right thing every day!