Dedicated Teen Mom 2 fans (read: people like me who have no life) have been following the Twitter relationship saga of Jenelle Evans and her now ex-boyfriend Gary Head (Yes, that's his real last name…insert LOL here)
Earlier this month, Jenelle and Gary staged a Twitter breakup to see how many news outlets would write a story about it. (The Ashley did not.) Then, in a cruel twist of irony, the couple actually did break up later that week.
They later got back together, but yesterday, called it quits again. (It sounds like a story line from the original "Beverly Hills 90210!" They're like the modern day Brenda and Dylan!)
Anyway, this morning, Jenelle decided to send Gary off with this video message. In it, Jenelle and her friend Allison sing "Face Down," a song by Red Jumpsuit Apparatus about a dude who beats up his girlfriend. Not sure if Jenelle's implying that Gary put his hands on her, but that's what it seems like.
You must watch the video. However, if you're anything like me, you'll be distracted by the strange, dark dot on Jenelle's forehead as she angrily sings to her ex. (Can't….stop..staring…at…it.)
As for Gary, he's unfazed by the video, even thanking Jenelle for the video in a tweet.
"Glad to see I'm still on your mind," he tweeted.
He also told a fan that Jenelle is immature and that, "You see who she isn't with [in the video.] JACE! Some people will never change their ways."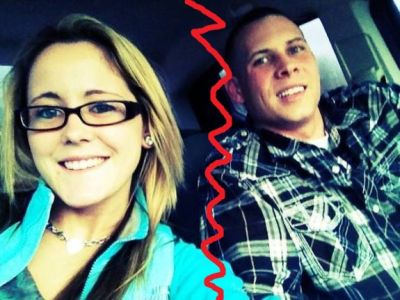 He also claims he was not with Jenelle because she's famous.
"I never wanted that MTV s**t or popularity. It took MTV forever to get me to sign a release form," he tweeted earlier today.
Anyway, although this video is hilarious, it can not compete with this classic Jenelle video from 2010. (Warning: you may pee your pants watching it!)