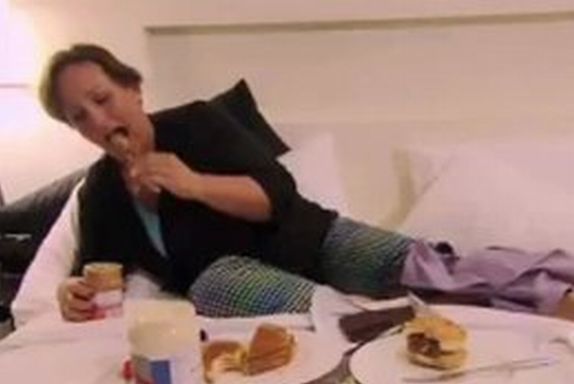 Biggest Loser viewers were shocked last night as they watched Chris go on a food eating binge after having a depressing conversation with her husband, Roy. (He's always going to be "Santa" to me, sorry.) Fans watched in horror as Chris shoved craploads of food into her piehole, including, but not limited to a mayo-covered hamburger (who does that?!) a grilled cheese sandwich, bananas and candy bars, all of which were covered in heaps of mayo and peanut butter.
She ended up gaining two pounds and was given the boot by her fellow contestants.
However, several former contestants of the show are claiming that Chris' big binge was most likely set up by production.
Suzy Hoover, who was a contestant on Season 2 and ended up marrying that season's winner, Matt Hoover, said on Twitter today that not only was Chris' big food setback staged, but it isn't the first time the 'Biggest Loser' production has convinced a contestant to binge for the cameras.
"They made Matt do it on our season too," she tweeted, adding that she had spoken with Chris, who confirmed that her binge was fake.
Suzy and Matt later posted this YouTube video to give viewers further insight on why they feel things didn't happen exactly as they saw it on the show.
"'Biggest Loser' contestants are never left on their own," Suzy said. "She could not have gone to the store and bought that mayonnaise or peanut butter. She couldn't have even ordered room service!"
Matt also found the whole stunt hard to believe.
"I stay at hotel rooms [often]…and never once have I seen [a hotel] bring up a jar of mayonnaise or peanut butter!"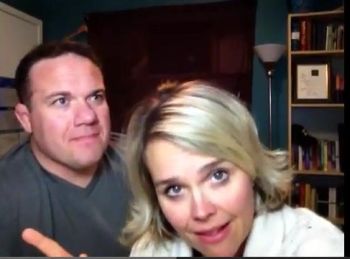 Suzy said that the binge was probably staged because Chris might have wanted off the show and this is how production chose to make that happen.
Season 8 contestant Amanda Arlauskas shares the Hoovers' sentiment.
"Want to know how I figured out it was staged? She had mayo w/ tape covering the logo. That's how you know it's fake," she tweeted.
Also suspicious? The media conference call that normally takes place with the eliminated 'Biggest Loser' contestant was mysteriously cancelled this morning.
Hmmm…..