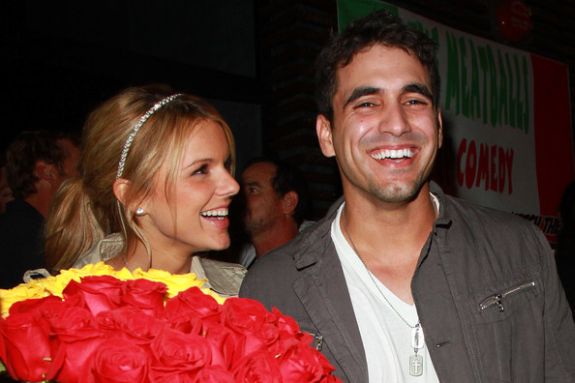 Despite their breakup in November, many Bachelorette fans  have been clinging to the hope that ill-fated lovebirds Ali Fedotowsky and Roberto Martinez may someday get back together. To these people, The Ashley says 1) you need a life and 2) there is hope, however slight.
Ali called into Ryan Seacrest's Los Angeles radio station today to talk about her brand-new travel show. (It was just a matter of time before someone gave this chick a TV series.) Of course, the topic quickly swung over to her recent breakup with Roberto, and Ryan asked if there was any chance of the pair working things out and getting back together.
"I would say never say never," Ali told Ryan on-air. "I don't know if he thinks that! Maybe he thinks 'no way, I would never get back in that relationship!'"
Something tells me there's probably some truth to that. Rumor has it that the relationship failed because Ali wanted to be famous and Roberto wanted to get out of the spotlight.
Ali had nothing but nice things to say about her ex, though.
"I think he's an amazing man and whoever ends up with him I think she's going to be a really lucky girl," she said.
Doesn't sound too promising, but I'm sure the 'Bachelor' producers have been saying their rosaries every night in prayer that Ali and Roberto will get back together and get married. They need another "successful couple" to wheel out on finale shows. How many times can we listen to Trista and Ryan yammer on and on about being the only couple from the show that's made it?
According to a recent interview she did with the Bachelor Expert blog, Ali's life is going great, even without Roberto.
"I feel incredibly blessed. I wake up every morning thankful for each and every person who has supported me through this crazy journey," she said. "Life is great. I'm happy, healthy and have wonderful people in my life. I can't really ask for more."
(Photo: Pacific Coast News)