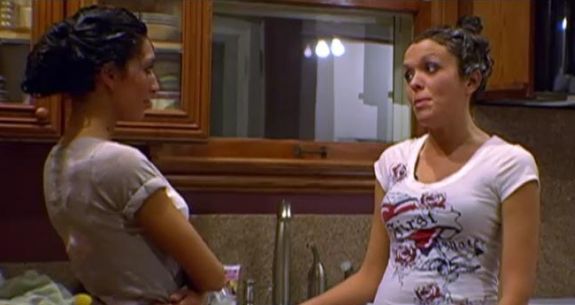 Teen Mom star Farrah Abraham is about to become an aunt for the first time, thanks to her sister, Ashley, who is currently 29 weeks pregnant and about ready to pop. 'Teen Mom' fans will most likely remember Ashley from her numerous appearances on the show. (Who could forget her snarky comebacks and perfectly timed eye-rollings when Farrah's being a brat? I love Ashley!)
Although Ashley is much older than the 'Teen Mom' star, she seems to be looking to her younger sister for advice on motherhood.
"My older sister is 26 and having a girl," Farrah recently told INsite Magazine. "I'm ready to be an aunt since I already have a girl. I'm supporting her and helping her with organizing and planning. I'm giving her baby products from my line and helping her design the baby room."
Of course, that's not all Farrah's giving her pregnant sister. Apparently she's also been giving Ashley a hard time about the name she's chosen for her future daughter, according to Ashley's pregnancy blog.
"OK. So here's the deal," she wrote earlier this month. "I pretty much have my heart set on naming my little bean, Sylvia Carmela Adele. My sister on the other hand HATES the name Sylvia and tells me that everyone else does too."
Geez, Farrah. Tell her how you really think.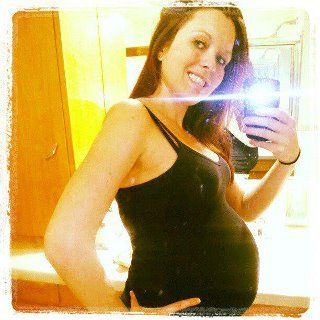 Of course, Farrah gave Ashley a few names that she feels would be better than the one that Ashley picked out.   They include Sayechelle, Serrica, Sapphire and Sadie.
I'm sorry but the first two name suggestions look like the names of communicable diseases. And Sapphire? Well…any child named Sapphire is destined to work the pole at the Spearmint Rhino in Las Vegas. Just sayin….
For the love of God, Ashley, please don't listen to your sister and saddle that kid with the name Sayechelle. (How the hell do you say that anyway? It looks like you were trying to spell "satchel" and were hoping Auto Correct would help you out.)
Ashley said in a previous blog that, "Sylvia holds the most meaning to me anyways because it's my great grandma's name. She was a strong woman, as is my grandma (Carmella), as is Adele… The baby is going to be named after three wonderful, strong women."
While I'm all for sisters giving each other advice, in this case I think Farrah needs to keep her nose out of it and let her sister name her own baby a perfectly beautiful (and non-stripper-esque) name!
What does Debra, the mother of both Farrah and Ashley, think? More on that later…
(A Special Note From The Ashley: My apologies to any of you out there that are named Sapphire and are not strippers. Way to beat the odds!)
(Photo: MTV)