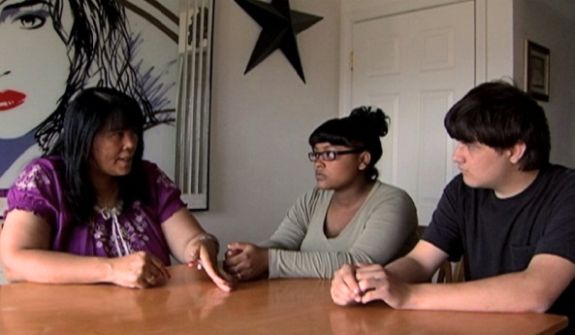 Last night, 16 & Pregnant watched as the mother of Jordan Howard basically spit  venom at Jordan's baby-daddy, Tyler, throughout the entire episode. I'd understand if she didn't like him due to his unfortunate haircut, but that wasn't the case at all. The mom didn't like him in part because he was white. This caused some pretty gnarly fights within the family, one of which even caused Jordan to walk out of her own baby shower.
Anyway, almost a year has passed since Jordan's episode was filmed, and, according to her Facebook fan page and Twitter account, a lot has changed since then. Her son, Chase, is about to turn 1, and her bowl-cut-wearing boyfriend is now her fiance!
The relationship between Jordan's mother and Tyler has also improved. In fact, according to Jordan, the two are semi-BFFs now.
"We are all besties now and none of this drama is happening anymore," she tweeted in response to what viewers saw on last night's episode.
"My mom pays for everything. Tyler and my Mother get along. [They] talk about books and watch 'Game of Thrones' together. They have a blast!" she tweeted. "My fiance and my mom  don't..act like any of that drama ever happened. We are all cool beans!"
In addition, Jordan told her Facebook fans that despite what they saw on her '16 & Pregnant' episode, her mother isn't a racist.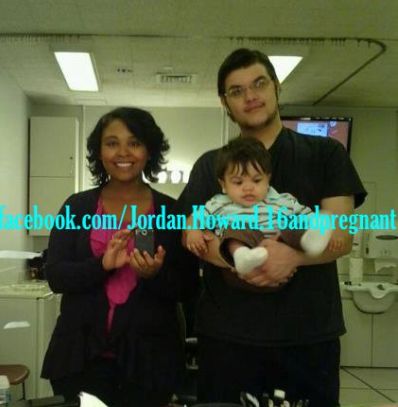 "We all know MTV loves the drama. My mom is not racist. She is mixed!" Jordan tweeted yesterday.
Even the once-hated Tyler can attest to the fact that Jordan's mom doesn't hate white people.
"Me and Jordan's mom are cool," he posted on Jordan's Facebook fanpage. "And she isn't racist towards white people. Her mom is white."
In other good news, Tyler appears to have stepped up big time in the fatherhood department. In fact, the couple is planning to move out on their own soon. He also seems to have reconsidered that horrible 'do he was sporting during the episode, as evident from the photos that have come out of the couple at the recent '16 & Pregnant' reunion in New York City. Thank the baby Jesus for that! His hair was epically bad in that episode!