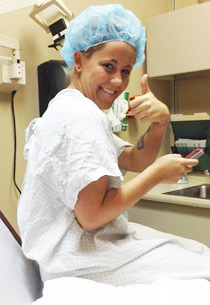 Another Teen Mom star has gone under the plastic surgery knife in a quest for bigger breasts!
'Teen Mom 2' star Jenelle Evans joined the silicon (or saline?) club (other members include 'Teen Mom' stars Farrah Abraham and Maci Bookout) earlier this week. She went from a small B cup to a full C cup (although she told her fans on Stickam earlier today that she still doesn't know how big they will actually be.)
Photos of Jenelle being helped out of the Wilmington Plastic Surgery Center were snapped by paparazzi. Also caught on camera that day? An MTV film crew and Jenelle's on-and-off-again ex-boyfriend, Kieffer Delp, who from the looks of the photos has traded in his trusty (and crusty) green hoodie for this striped number.
Kieffer was on-hand to take care of Jenelle the first few days after her surgery, but the two have since split–again! Kieffer (and his fancy new hoodie) has hit the bricks, with Jenelle telling her fans of Stickam, "Am I friends with Kieffer? Not really. Not anymore. Things just turned out to be the same with us and I just can't be with him again."
Anyway…while Jenelle declined to reveal how much money she spent on her new, um, assets, she did tell us that her mother, Barbara "High! High!" Evans, approves of her decision.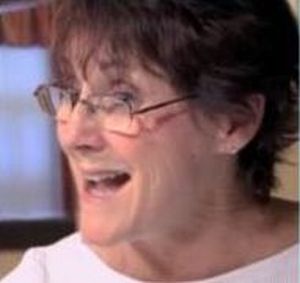 "My mom likes my boob job and she thinks they're not that big and that they look good," Jenelle revealed during her Stickam session. "She was afraid that they were going to be too big."
I can just imagine the scene that played out when Babs saw her daughter's implants for the first time. In my head, it went something like this:
"Weeeell Juh-nelle! I see ya wif new boobs. I hope they make for a good time for ya booooooyfriend!"
Jenelle is still in a lot of pain, even telling her fans on Facebook, "The next day after implants is worse then coming home from the hospital after birth." This echos what Farrah told an Austin, Texas, radio station recently.
"I do think it was harder to move with a breast augmentation than surgery than with the surgery of giving birth," Farrah told the host of the Bobby Bones Show. "I think the breast augmentation might have been more painful. My dad had to help me go to the bathroom! It was very painful."
One person that hasn't been scared off by Jenelle's reports of implant pain? Her 16 & Pregnant Season 2 co-star, Ashley Salazar. Ashley, who said she plans to get a breast augmentation in December, sent Jenelle an encouraging get well message.
"Jenelle, you are so lucky! Congratulations girl! I can't wait to get mine done, lol! I hope you have a good recovery and enjoy those!"