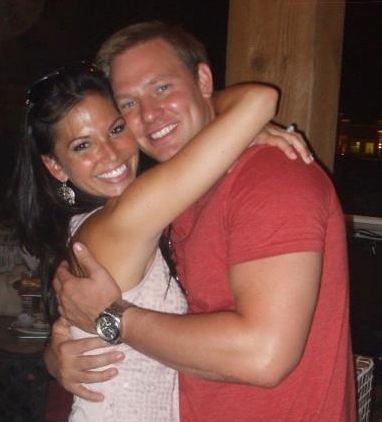 Be careful, Melissa Rycroft. You may be eating your words in a few years.
The star of the new CMT reality show Melissa & Tye: A New Reality,  recently told People magazine that she doesn't think putting her relationship in the spotlight will ruin her marriage.
Yeah. Neither did Jessica Simpson and Nick Lachey. Or Kate and Jon Gosselin. Or Carmen Electra and Dave Navarro. Or Travis Barker and Shanna Moakler. (Remember their show Meet the Barkers? Wasn't it awful/amazing?!)
Anyway, Melissa told the magazine that even though she essentially had to move her and her daughter halfway across the country to Los Angeles while her husband stayed in Texas, things are going great.
"You just get used to it," she said. "We're gotten used to this adjustment, and it's obviously not hard once you get over that initial transition period."
Um…why didn't they just shoot the show in Texas? Wouldn't that solve the problem?
In case you have no idea who the hell Melissa Rycroft is, allow The Ashley to refresh your memory. She's the chick that got dumped by Jason Mesnick during his season of The Bachelor so that he could date the runner-up. She went on to appear on Dancing With the Stars, write a book and host some stuff. (As you do.)
Anyway, Melissa is positive that things will work out for her and her husband because they pick and choose what they want shown on television.
"They're not issues, they're not problems. They're just things we don't want to throw out there and open up for public scrutiny and public debate," she told the magazine, adding that she feels like a single parent much of the time.
You can tell yourself whatever you want, honey, but eventually the glare of the spotlight is going to start to crack your marriage. Is being on a crappy reality show worth risking what seems like a great marriage?
Of course, some couples that have been featured on a reality show have managed to survive (for example Ozzy and Sharon Osbourne and the Duggars) despite their reality TV fame. However, as this handy list tells us, most couples that put their life on display on a reality TV show eventually end up in the office of a divorce lawyer.
"For a while, I think we actually enjoyed doing the show," Nick Lachey once said in an interview with David Letterman about his reality show Newlyweds. "It was just so invasive that it became a problem."
The Ashley is hoping for the best for Melissa and Ty. However, if things start going south, at least Melissa has options. She can always go on The Bachelorette!
(Photo: Twitter)