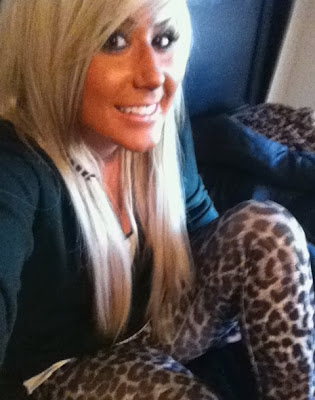 It looks like Chelsea Houska will be following in the public speaking footsteps of Teen Mom stars Maci Bookout and Catelynn Lowell. She is currently working on setting up a cross-country speaking engagement tour, she announced on her new official website earlier this month.
In addition to the public speaking tour, Chelsea is also planning on releasing her own line of beauty products!
Love her or hate her, Chelsea has quite a story to share that a lot of girls can probably learn from.
Not only has she dealt with teen pregnancy, but also been the victim of a verbally abusive baby-daddy. (Who could forget that text message Adam sent her about Aubree being a mistake? I still want to give him a frying pan to the face for that one!)
Chelsea's website also revealed that she has big plans for her future: not only does plan to do the public speaking tour, but she is also going to attempt to release her own line of hair care products and fake eyelashes in the near future! She's currently in cosmetology school, so it makes sense that she'd go the beauty product route.
It also makes sense that she would try to capitalize on her fame with all these ventures! I can't fault her for that; The Ashley would be releasing all kinds of crap onto the market if she thought anyone would buy it and it would make her lots of money!
If Chelsea's smart, she'll sell all of her products at her public speaking engagements! She would seriously make buckets of cash!
Anyway, The Ashley will update y'all when she hears of any set speaking engagement dates!
Click here and here if you'd like to read about what Maci has talked about during some of her speeches.