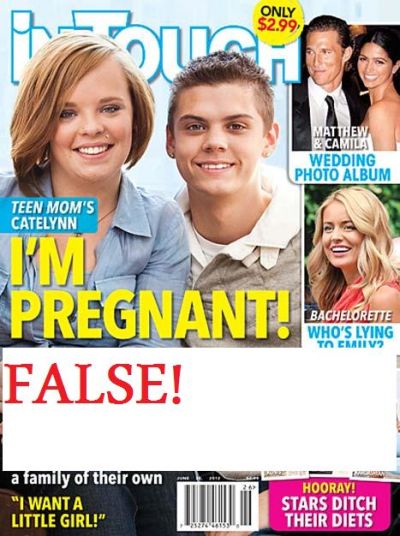 The Teen Mom fan world went into a tail spin this morning after In Touch magazine released its new issue, with claim of the "exclusive" story that Catelynn Lowell and Tyler Baltierra were once again expecting a child, according to a longtime "friend" of Catelynn's.
Well kids, don't believe everything you read (especially if it comes out of In Touch, which The Ashley has found to be notorious for stretching—or just abandoning—the truth.) This story is completely false, according to Catelynn herself.
"I'm definitely not pregnant!" she told Us Weekly in a statement this morning. "I'm on the pill. And, I'm only 20–I don't want to have kids until I'm out of school and we're married."
The Ashley did some digging on the "friend" of Catelynn's that started this rumor– it looks like she's a newly single mom of several kids who probably wanted to make a quick buck. She is from Catelynn and Tyler's hometown, but The Ashley can find no proof that she even knows Catelynn!
The lessons we learned today:
Don't believe everything you read.
Even Catelynn and Tyler aren't immune to being the victims of tabloid rumors.
Oh, and just for the record, Teen Mom 2 star Jenelle Evans isn't pregnant either, despite what this week's Reality Weekly cover tells you. She shot this rumor down on Twitter.