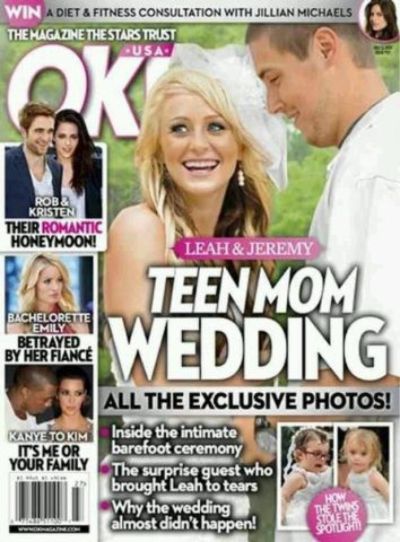 Apparently making money from tabloids knows no time frame!
This week's issue of OK! magazine features intimate photos of Teen Mom 2 star Leah Messer's wedding to Jeremy Calvert. This is the first official confirmation fans of the show have gotten that Leah did indeed get married back in April. (You can read what The Ashley wrote about the wedding in April here. It has a lot of the same info as this OK! story!)
The fact that the photos are just being released now is quite peculiar, as stars generally waste no time in selling off photos from their major life events for big bucks. (Who could forget Jessica Simpson's $80,000 payday for hawking pics of her new baby to People?!) However, from what it looks like, this was a second wedding reception/ceremony for the couple. (The first one back in April was only attended by a few close friends and family)
If these are photos from the original wedding back in April, The Ashley is very puzzled as to why Leah and Jeremy waited over two months to sell the photos. Maybe they needed the money, or just decided to not let a good opportunity to make some extra cash go to waste? The Ashley doesn't blame them for selling the photos; tabloids offer an insane amount of dough for exclusive stories like that!
Anyway, the issue contains photos from the wedding, as well as details on what Leah and Jeremy wore (a white strapless lacy gown for her, a white tux for him), what the guests ate (comfort food), and who attended (Leah's 'Teen Mom 2' co-star Kail Lowry and her boyfriend Javi surprised Leah!)
According to the magazine, Leah and Jeremy were barefoot during the ceremony (oh, West Virginia!) and for their first dance they chose Savage Garden's "I Knew I Loved You."
MTV cameras captured the event, which will likely be shown during the third or fourth season of 'Teen Mom 2.' (My bets are the third season, based on timing. I smell a special 90-minute season finale in the works!)