Emily Maynard is no stranger to the television camera! Before she wooed Brad Womack on his season of The Bachelor, and before she breaking hearts and making guys wear kilts on The Bachelorette, Emily spent some time as host of a racing lifestyle show!
Back in 2007, Emily signed on as host of the show "Three Wide Life." At the time, the co-producer of the show, Parker Williams, said he chose Emily because, "We wanted someone who is a part of the motorsports community and not just a pretty face. Our show is about the people in the industry and Emily is one of those people."
It helps to be the mother to the granddaughter of one of the most influencial couples in NASCAR, Rick and Linda Hendrick. (Click here to see what Ricki's grandparents look like. You know you're curious!)
Emily acted as host of the show for about a year, before going off to pursue other things (including, but not limited to, dating celebrities and causing ol' Womack to fall hopelessly in love with her!)
Watch the clip above to see Emily's hosting skills in action. She looked somewhat different back then, probably because she wasn't wearing nearly as much makeup as she does on 'The Bachelorette.' I think the fresh-faced look looks so much better on Emily!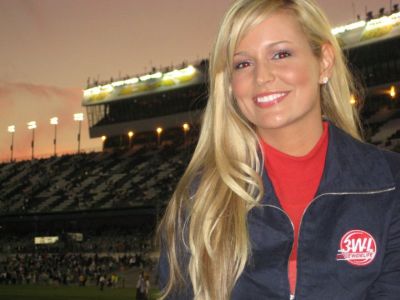 Anyway, according to the latest issue of US Weekly, Emily is hoping that her stint on 'The Bachelorette' will not only bring her love but also a lucrative hosting or television career, similar to that of fellow former 'Bachelorette' Ali Fedotowsky. I don't find this surprising at all. In fact, I think Emily should be on TV. Anyone that is that ridiculously beautiful needs to be in the spotlight!
Maybe she and Arie will team up once they're engaged and dual-host some racing adventure show! (This is not a spoiler; don't worry. I don't know for a fact that they're engaged. However, it seems inevitable, doesn't it?) I'd totally watch that!
(Photo: Facebook)