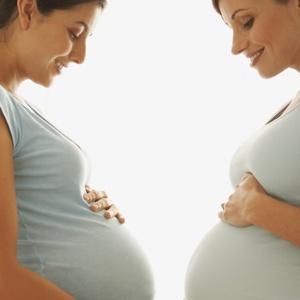 With three hits under its belt that focus on teen parenthood (Teen Mom, Teen Mom 2 and 16 & Pregnant) and one on the way (Teen Mom 3), MTV has pretty much dominated when it comes to airing shows dealing with pregnant teens. Fans of these shows know how much drama one pregnant girl can cause…but imagine if you amped the drama up even more by adding another pregnancy to the mix—the girl's mother!
Casting producers for a new reality docu-series called Pregnant Mothers, Pregnant Daughters are hoping to find their own niche in the maternity television market. The new show will follow mothers and daughters who end up getting pregnant at the same time, said Adam Drucker, the head of casting and talent for the company behind the show.
"We're really interested in exploring the mother-daughter relationships and how the pregnancies affect them," he said. "That's really the core of our show."
Like its MTV cohorts, 'Pregnant Mothers, Pregnant Daughters' will not only document the pregnancy and delivery, but also what happens afterwards in the lives of its stars.
"We'll follow their journey through the births and beyond," said Drucker. "For the series,  we're casting only a few mothers and daughters and will follow their journeys throughout the season, in every episode. So, in a sense, the whole series will be a follow up [to what happens after the babies are born.]"
Casting directors have been scouting the country looking for girls (and their moms) who fit the bill and are interested on being on a reality show. If this sounds like you and your mother (or daughter), you better hurry and contact them, as the show is currently in its final week of casting.
"I think the universality of pregnancy and the uniqueness of this situation will make it appeal to a diverse audience," he said. "In particular, we hope it's a show teenage girls and young adults will watch with their moms."
The show, which will feature hour-long episodes, is slated to air this fall or early next year.
Casting directors for the show are still searching for a few more preggo moms and daughters, so if this fits the description of someone you know, Drucker encourages you to contact the show's casting department! (If you get picked, maybe The Ashley will be writing about you someday!)
Drucker said the best way to get in touch with the show's casting agents is to send an email to mothersanddaughtersexpecting@gmail.com, describing what's been happening in your
lives since you've both become pregnant and why you should be a part of this docu-series. You also need to include your phone number, email, address and the city and state where you live. (Here's the show's Facebook page if you want to keep track of the show's progress.)
"We've got a terrific team of dedicated, caring casting producers who've been looking in every state in the nation," said Drucker. "We're so excited to hear your stories and document your journeys!"
I don't know about you, but The Ashley is totally watching this show when it airs! This is right up her alley!
(Photo: Getty Images)