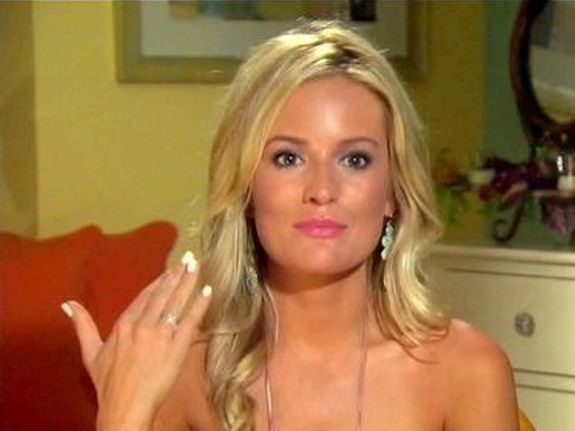 Spoiler alert! Stop reading this if you haven't heard what happened on last night's Bachelorette finale!
Last night the world (well, OK, maybe not the world, but the women of America that had nothing better to do on a Monday night) watched as Emily Maynard gleefully accepted a marriage proposal from Jef Holm (not to mention a giant Neil Lane sparkler!)
During the "After the Final Rose" special, Emily revealed that she was hesitant to accept Jef's proposal only because she "didn't want to be the girl who gets engaged a bunch of times before she gets married." As us viewers know, Emily had been engaged two times before she accepted Jef's proposal– once to Ricky Hendrick, who is the father of Emily's daughter Ricki and died tragically in a plane crash; and once to Brad Womack after his second season as The Bachelor.
Wanna see all of her engagement rings?!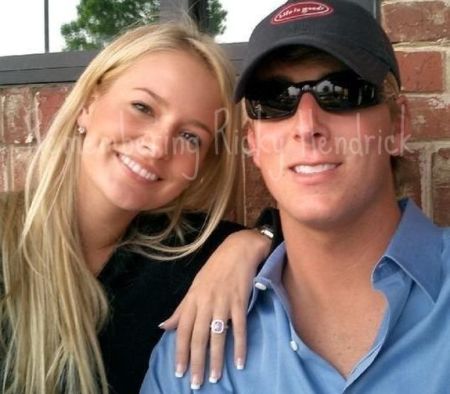 Emily received this beautiful pink babble from her first fiance, Ricky, in April 2004, just six months before he died in a plane crash in October 2004. The couple dated on and off for several years before becoming engaged. The engagement ring from Ricky was reported to be valued at $100,000! (You can read more about Ricky and his relationship with Emily here.)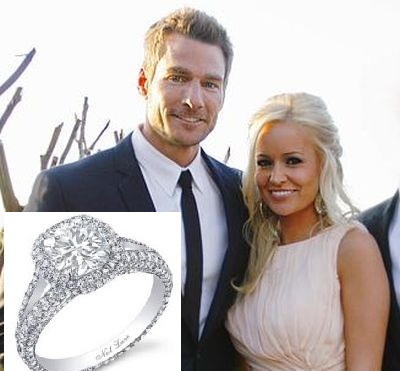 Brad Womack paid Neil Lane a visit back in 2011 to 'purchase' this 3-carat engagement ring for Emily. It was rumored to be valued at nearly $50,000! (Good thing ol' Womack didn't have to shell out his own dough for it!) Brad said he chose the ring, which had 263 round brilliant-cut diamonds around a central cushion-cut diamond, because he, "loved that no matter how Emily bent her finger, there would be sparkles everywhere you looked."
At the time, it was the most expensive ring ever given to a woman on the show. She apparently returned the ring after she split with Brad in June 2011, as per the show's rules.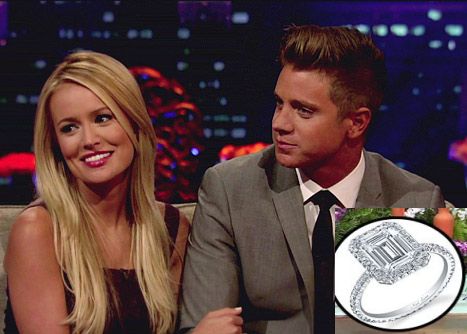 Emily accepted this ginormous rock from Jef Holm on last night's episode of 'The Bachelorette.' According to several reports, the handmade ring is valued at $150,000 (!) and features a 2.5-carat emerald-cut diamond and a band made of 87 (!) smaller round-cut pave diamonds.
"I think our [relationship] is going to work because we really have become immediate best friends. I feel so comfortable around him," Emily said this morning on Good Morning America. "It's different than any relationship I've ever been in, so hopefully the outcome will be different, too!"
OK Roundupers, which ring is your favorite?
(Bottom photos: ABC via WENN, ABC)