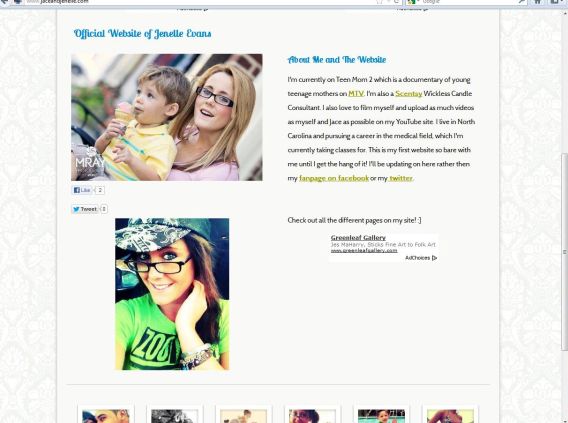 File under:  It's a slow day in the reality TV world.
Teen Mom 2 star Jenelle Evans has launched an official website for herself and her son Jace! The MTV star claims that she will be using the site to update fans on her life, rather than using her official Facebook fanpage or Twitter. (I'll believe that when I see it!)
Anyway, Jenelle is trying to use the online journal to set the world straight about what kind of person she really is.
"You might all know me as 'the bitch' from 'Teen Mom 2,'" she wrote. "You should never judge a book by its cover though."
She goes on to explain that she is not the same Juuuh-nelle we're used to seeing on our television screens.
"I'm a very sweet girl and very generous believe it or not," she wrote. "Please read my post and see that I have changed. I'm not that bad of a person, I promise."
The site also includes very recent photos of Jenelle and her frenemy, Tori, parasailing in Myrtle Beach, as well as photos of Jenelle with her on-again-off-again boyfriend, Kieffer Delp.
Those who look very closely at a shot of Jenelle in a car will also be able to catch a tiny glimpse of everyone's favorite reality star, Barbara Evans, driving the car that Jenelle is posing in. (However, there were no 'jumpah cables' or Fix-a-Flat in sight! Boo!)
If you want to check out Jenelle's new website for yourself (although given the lack of Barbara-related content, I don't see why you would), you can click here.
Click here to see the official website of Jenelle's 'Teen Mom 2' co-star, Kail Lowry!