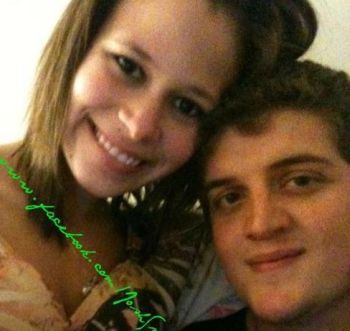 16 & Pregnant Season 3 star Jennifer Del Rio has spoken out against the news outlet TMZ for running a story regarding her custody "battle" with her baby-daddy Josh Smith. Jennifer is claiming TMZ "read between the lines" of her custody documents, most likely to stir up unnecessary drama!
The story, which ran on the site a few weeks ago, claimed that Jennifer had filed for sole custody of her twins, Josh and Noah, due to their father being "a huge threat to her family's safety."
The story also claimed that Jennifer had fled Florida with the boys in order to escape Josh and that she filed for sole custody because there was no way she could share custody with Josh due to their history of domestic violence.
Jennifer took to her official Facebook fan page to debunk much of the story and separate the fact from the fiction.
"For those of you who keep up with TMZ…they wrote a story about me filing for sole custody. First off, I'm not a fan of any media and don't like it but since TMZ wants to try to read in between the lines of my documents… I asked for sole custody of my children because I do take care of them 24/7. I supply everything they need I'm the only who spend[s] every second of my day with my children," she wrote.
While TMZ may have gotten that part of the story correct, Jennifer claims that they were wrong about her having beef with Josh, and that she did not file for custody because she felt threatened by Josh.
"[What] I did say [was that] I couldn't co-parent with Josh because every time we try it doesn't work and as much as my children and Josh love each other I'm not letting anyone walk in and out of their life," she wrote.
On July 24, Jennifer had her custody hearing and was given sole custody of the boys, because she is their primary caregiver, not because Josh is a threat to her and her kids. While she did leave Florida last year without telling Josh where she was going (she moved to Chicago), it appears that all of that drama is behind them.
She is currently living with her 21-month-old twins in Florida near her family. She is also seeing a new guy.
The Ashley spoke with the twins' father, Josh, who gave his take on the story.
"Regardless of what people have seen and what people will make me out to be, I trust in God and will follow him," Josh said in an interview with The Ashley. "God can change any situation and any circumstance."
As for claims that he is "a threat" to Jennifer and the boys, Josh insists that couldn't be farther from the truth.
"I love my two sons with all of my heart," he said. "My love for them is out of this world. Sometimes we will learn that we have to slow down in order to move further. My plans, dreams and goals for my children are huge. I know they are in safe hands right now and I will continue to let God be in control."
Officially, Josh is still able to see the boys, but at this point, is letting things set for a while. Jennifer has said on her Facebook page numerous times that she has no problem with him seeing the boys, and that she and Josh are still good terms.
Josh, however, tells The Ashley that the couple no longer speaks and that he's happy that she's no longer in his life.