I'm not going to lie; I'm sick of writing about this creepmuppet.
It seems like Farrah Abraham's mug is plastered everywhere these days! With only two episodes of Teen Mom left, she's certainly hustling to make sure that the public doesn't forget who she is.
Just in the last few weeks alone, she's added the titles of author (her autobiography, My Teenage Dream Ended, was released yesterday), and singer to her resume. (Click here to listen to her new album. I must warn you, however, that her "music" should not be played near pets or small children, as it will scare them and probably scar them for life.)
Today, she added "music video star" to her growing list of offerings. In the music video for her track "On My Own," Farrah screeches through three minutes of hard-to-understand (and, at times, just downright strange) lyrics that are about being a single mother…I think.
The video, which looks like it was filmed using the free Flip video camera that MTV gave her when she appeared on 16 & Pregnant, starts with someone (I'm assuming it's supposed to be Farrah, but I'm sure she probably made Michael do it) pushing Sophia on the swing. Next, it's a shaky, nausea-inducing shot of spinning clouds, and then onto footage of Sophia running through the cemetery, all while creepy Chinese-restaurant-esque music plays in the background.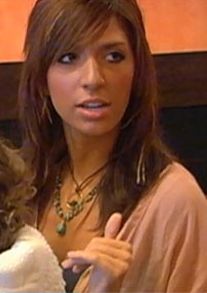 W…T…F…this is like a bad dream you have after falling asleep while watch too much 'Teen Mom.' And taking acid.
If you would like to speak to Farrah (and tell her how bad her "music" actually is), you now have a way to make that happen! For only $20-a-minute, you can have a phone conversation with Farrah, thanks to the DialAStar phone service. (I seriously wish I was making this up, but I'm not. Click here to see her profile on the site.)
Twenty dollars to speak to this turd for one minute? You've got to be kidding me! Save your $20 and go buy an album by someone with actual musical talent. (Might I suggest this one?)
Click here to watch YouTuber Ladi Amber's hilarious review of Farrah's video!
(Photo: MTV)