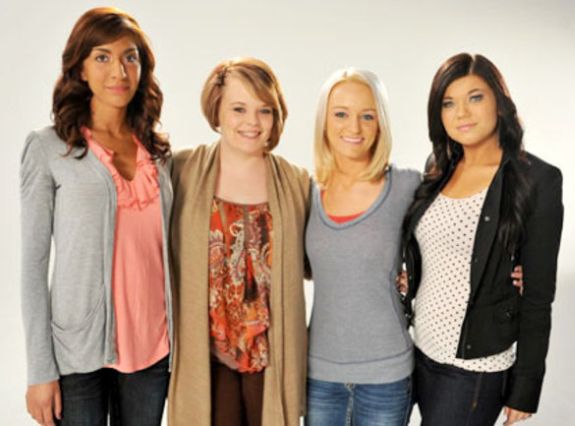 Teen Mom fans have probably heard the rumor that the original 'Teen Mom' cast is going out with a bang, and that at the end of the series (which is next week!) one of the girls will announce that she is having another baby. The rumor began after OK! magazine ran an article about it a few weeks ago.
Since then, The Ashley has been bombarded with questions regarding this topic, so she has decided to set the record straight. As she has always stated, don't believe everything you read, especially if it's in a magazine like OK!
Spoiler alert! None of the original girls are pregnant. This was just a story concocted by OK! to trick fans into buying the magazine. If you need further proof that none of the girls are pregnant, allow The Ashley to offer the following evidence:
Maci Bookout is not pregnant because….she very recently celebrated her 21st birthday at a nightclub. (Click here to see pictures!) Like most people on their 21st birthdays, Maci was drinking… a lot, telling us that she can't be pregnant because she would never risk her unborn baby's health by slugging down drinks. (Even if she was that stupid, she would never do it publicly!)  Anyone that follows Maci on Twitter knows that the 21st birthday extravaganza was hardly the first time Maci has been drunk in the last six or so months.
Amber Portwood is not pregnant because…she has been in jail or custody since December 2011. Simply put, if she had been pregnant when the finale was filmed, she'd have popped out a baby months ago. Of course there's always the off-chance that she has an 11-month baby inside of her, but I doubt it. (Not to mention if she had been pregnant when admitted, it would have been noted in her record.)
Farrah Abraham is not pregnant because…um, have you seen her body recently (and all of this year)? I know that there are some women that can go nine months and never look pregnant (like those chicks that pop out babies while on the toilet on that show 'I Didn't Know I Was Pregnant') but that is not the case with Farrah. There's no way there's a baby inside of her rock-hard stomach. In addition, Farrah has also been seen publicly drinking (such as at her recent 21st birthday club outing), so she can not be pregnant.
Catelynn Lowell is not pregnant because…she adamantly denied it when rumors surfaced in In Touch Weekly in May that she was once again with-child. It turned out that Catelynn's mom, April, had fabricated the story in order to get money from the tabloids. She has gone on record denying it over and over again. In addition, she recently lost nearly 25 lbs., rather than gained it.
If this isn't proof enough for you, feel free to buy the magazine and eagerly await a pregnancy announcement that will never happen. Of course, there is the off-chance that one of the girls could have been pregnant while filming last year, but they would have had to have miscarried, or we'd already have seen a baby pop out of them!
(Photo: MTV)