For all the criticism that reality television gets, it does actually does do (a little) good in the world, other than bringing train wreck entertainment for you to watch and The Ashley to write about. There are many couples that are now enjoying marital (or almost marital) bliss, after meeting on a reality television show.
Ironically, there have been more successful marriages that have come out of shows that are not romance-based than shows, like The Bachelor and The Bachelorette, that are. As we all well know, only two couples from either of those shows have ended up actually walking down the aisle (Jason and Molly Mesnik of 'The Bachelor' and Ryan and Trisa Sutter of 'The Bachelorette.') The rest of the couples from the shows have pretty much crashed and burned, save for the most recent specimens.
Anyway, just for fun, The Ashley brings you 10 couples that never would have met (and fallen in love) had it not been for reality television. Obviously, there are many more reality TV couples, but The Ashley only included those that met on non-romance-themed shows, and that got married (or engaged) because of it.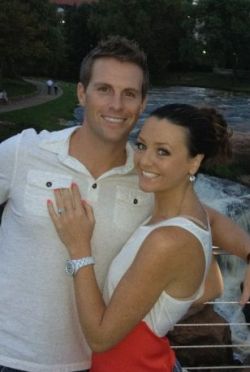 1. Holly Durst & Blake Julian (Bachelor Pad 2)
If 'The Bachelor' is grandfather of romantic reality shows, 'Bachelor Pad' is the horny little brother. Although it's not exactly a place that anyone would expect to find true love (or even a relationship that lasts longer than it takes to finish a few bottle of Patron), Holly Durst and Blake Julian did just that in 2011, when they met, fell in love and got engaged during 'Bachelor Pad 2.' During the finale special of the show, Blake and Holly revealed their engagement (much to the dismay of Holly's ex-fiance, Michael Stagliano, who was still pining for her). They married in June 2012. (Click here to see their adorable wedding video!)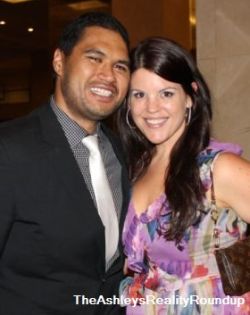 2. Stephanie Anderson & Sam Poueu (The Biggest Loser)
Stephanie and Sam began Season 9 of 'The Biggest Loser' overweight and unhappy…and ended it slim and in love! After falling head over heels for each other during filming, the couple became engaged in 2010. The following year, Sam had a very serious accident that nearly ended his life and left him badly injured. Stephanie stayed by his side throughout his recovery and in April, the two became husband and wife! (Click here to read about their wedding!)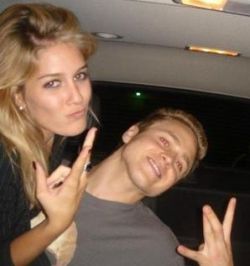 3. Heidi Montag & Spencer Pratt (The Hills)
Say what you want about these two, but they have managed to make their marriage last for nearly three years (which, in "Hollywood years" is equal to about 20!) Though they met off-camera after Season 1 of 'The Hills,' their relationship played out throughout the series. After having three (!) wedding ceremonies back in 2010, and then fame-whoring themselves out to any media outlet that would buy creepy staged photos of them, Heidi got a ton of plastic surgery in 2011. Since then, however, these two have stepped back from the spotlight and seemed to be enjoying married life more privately these days.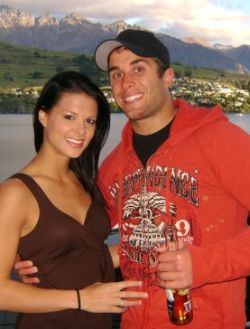 4. Tori Hall & Brad Fiorenza (MTV's "The Challenge")
After starring on MTV's 'Real World: San Diego,' Brad Fiorenza went on the 'Real World/Road Rules Challenge: Gauntlet 3' in 2008. He didn't end up winning the prize money, but he did score a soul mate in fellow cast member Tori Hall, who previously starred on 'Road Rules: Viewer's Revenge.'
The two began dating during filming, and, after two years together, eventually got married in 2010. Their wedding was attended by many 'Challenge' regulars. In August 2011, the couple welcomed their first child, a boy named John Brady.They currently live near Chicago and have retired (for now!) from the 'Challenge' circuit.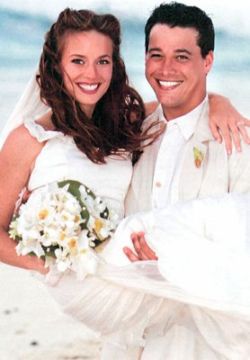 5. "Boston" Rob Mariano & Amber Brkich (Survivor)
The poster children for reality TV romance, Rob and Amber met on 'Survivor: All-Stars' in 2003. During the live season finale, Rob proposed to Amber and she accepted. The two got married (on television, of course) in 2005. They later appeared on a string of other reality shows including 'The Amazing Race' in 2005 and 2007. They also appeared on their own reality show 'Rob and Amber: Against the Odds' in 2007. (The show only lasted ten episodes.)
The couple recently celebrated their seventh wedding anniversary and are now parents to three daughters.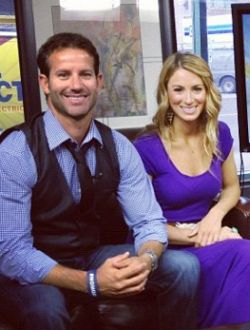 6. Tenley Molzahn & Kiptyn Locke (Bachelor Pad)
It's ironic (and actually kind of sad) that 'Bachelor Pad' has had more success in finding its cast members true love than the 'Bachelor!' Kiptyn and Tenley met on the first season of 'Bachelor Pad' and, after a romantical zip-lining date on Catalina Island, soon fell in love. The two have been inseparable ever since! Although the couple has yet to announce an engagement, they seem to be in it for the long haul.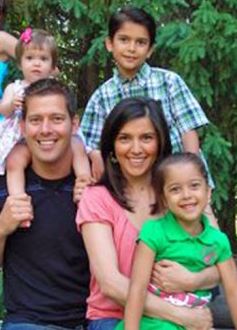 7. Rachel Campos & Sean Duffy (Road Rules)
Rachel, a cast member on 'Real World: San Francisco' in 1994, met Sean (of 'Real World: Boston' fame) while the two were filming 'Road Rules: All-Stars' in 1998. Both staunch Republicans, Rachel and Sean hit it off and eventually ended up getting married. Rachel was up for a co-anchor position on 'The View' twice, but lost out both times. (The first time was to Lisa Ling, the second was to 'Survivor' alum Elisabeth Hasselbeck.) However, Rachel has found other things to fill her time these days: she and Sean now have six (!) children together, and Sean is a member of the U.S. House of Representatives for the state of Wisconsin.
A 'Real World' cast member in Congress…now I've seen everything.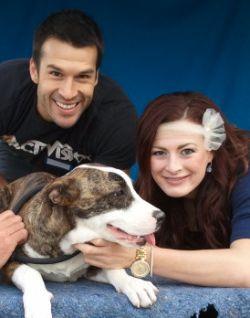 8.  Rachel Reilly & Brendon Villegas (Big Brother)
Rachel and Brendon met on the set of 'Big Brother 13' back in 2010. Nicknamed 'Brenchel' by fans, the couple went on to compete in another season of 'Big Brother,' in which Rachel took home the grand prize. On Valentine's Day 2011, Brendon proposed to Rachel. Afterwards, the pair competed on 'The Amazing Race,' and ended up coming in third place. These days, Rachel and Brendon are preparing for their upcoming wedding, which will take place next month.
Brendon has stated that he has retired from reality television, although, I'd bet that we'll see these two again in the near future!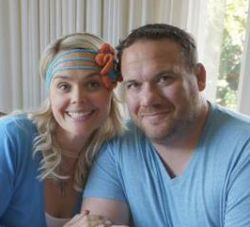 9. Suzy Preston & Matt Hoover (The Biggest Loser)
If you want to find lasting love, skip 'The Bachelor' and go on 'The Biggest Loser!' Like Sam and Stephanie, Matt Hoover and Suzy Preston also met the person they'd eventually marry while filming 'The Biggest Loser.' Although the couple didn't exactly get along when they first met on the show (he thought she was "too giggly," and she "couldn't stand him") eventually they started to develop feelings for each other. They began to date (Matt was Suzy's first boyfriend–ever) and eventually ended up marrying in September 2006. They now have two children.
To read about other couples that met because of 'The Biggest Loser,' click here.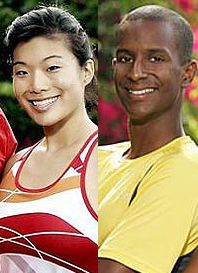 10. Christina Hsu & Azaria Azene (The Amazing Race)
Christina met Azaria while filming  'The Amazing Race: Unfinished Business' in  late 2010. Christina, who was competing with her father Ron, and Azaria, who was teammates with his sister, Hendekea, started out as friends, but after filming ended, romance started to bloom. By the time the season finished airing in the spring of 2011, Christina and Azaria were already husband and wife!
"We're happy. Married life is good," Christina told People in May 2011. "We are so grateful for the Race bringing us together."
(Photos: Twitter, Facebook, CBS)