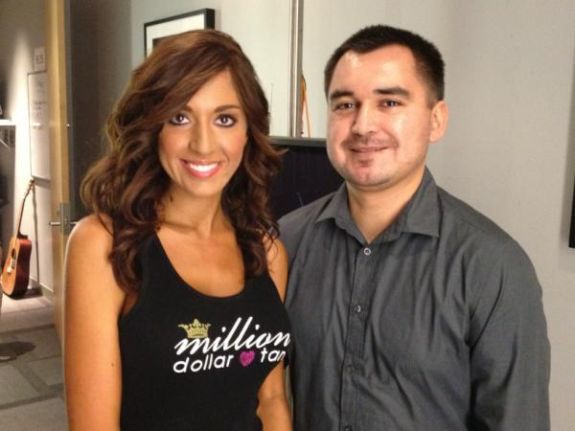 Farrah Abraham has invaded The Ashley's turf! Currently in Los Angeles to promote her book, she (and Sophia) went on Ryan Seacrest's radio show this morning at 7 a.m. to talk about the end of 'Teen Mom,' and her relationship with one of Ryan's radio show employees, John Parra, whom she met when she visited the set of Ryan's radio show in June!
After going on a dinner date in June, Farrah and John have been talking "like every day for two months," Farrah revealed on-air. According to Ryan Seacrest, John has kept quiet about his relationship with Farrah. (She hinted that she made John sign a "non-disclosure" contract…which, although she meant it as a joke, is totally something I could see her doing!)
Things have been going so well with John that Farrah is actually staying at his house while she visits Los Angeles! They went on a dinner date last night in Beverly Hills.
"It was like a sleepover," she said. "He has an awesome family and they're super fun," Farrah said, adding that she woke up with John this morning (!) to find that Sophia had made a mess of John's refrigerator.
She also revealed that she has moved back to Omaha, Nebraska, where her family lives. (I guess the whole Florida thing didn't work out?) Although 'Teen Mom' is coming to an end, it sounds like we'll be seeing Farrah's ugly-cry mug back on our television sets in the future.
"Cameras will probably still be in my life moving forward, but I'm just happy I get to share the older side of me now," she told Ryan Seacrest.
Here are some other topics she covered during the interview.
On the paparazzi and fans taking pictures:
"It happens all the time…it's no big deal."
On the next week's series finale episode:
"It's going to be 90 minutes and it's going to be a great finale event. I think it was a great show while it lasted with us and I'm happy to move forward."
On if she thinks she's portrayed accurately on 'Teen Mom':
"I don't think so because I hear a lot of different people when I meet them in person—they act like I'm somebody else from what they see on TV, so I just hope moving forward they can see who I am now."
On if she would do differently if she could go back in time:
"I would have done a lot differently, mostly with relationships. With Sophia's dad, with my parents, and I probably wouldn't have fought so much on TV. I know that makes me look bad, but I'm open and honest, and that's just what I wanted to do to help others."
On her new book:
"I wrote the book so others could see the full story of [what they see] on TV. Lots of what I wrote about was difficult and I had to reread the book over and over and over again before we released it. Every time was a crazy bundle of emotions. The book is very true to my emotions and I think therapeutic for others to listen to…er…read about."
Luckily, she didn't try to plug (or get Ryan to play) any of her crappy music singles on the radio. All of Los Angeles would have started to bleed from their ears.